Kids Gardening Kits & Tools – Top 7 Children's Gardening Gear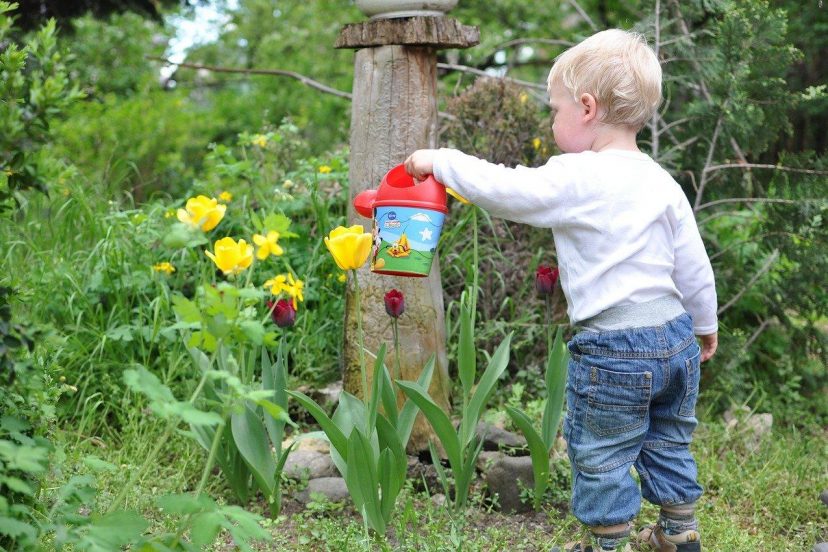 Outdoor activities are healthy for growing children. If their screen time is shooting out of control, it's time you give them some motivation to step out into the sun. Kids already love playing in the dirt. Why not turn it into a productive activity and even reap some fresh harvests in the process? If you want to develop the undying love for gardening in your little one, you'll need the right kids gardening kits. 
There are plenty of products available in the market to get your child started on a green expedition. Mark a small patch as the kid's personal garden, give them some charming tools, and they'll spend hours digging, planting, and watering in their little garden! Let's see what's in store for them. 
How Does Gardening Benefit Kids?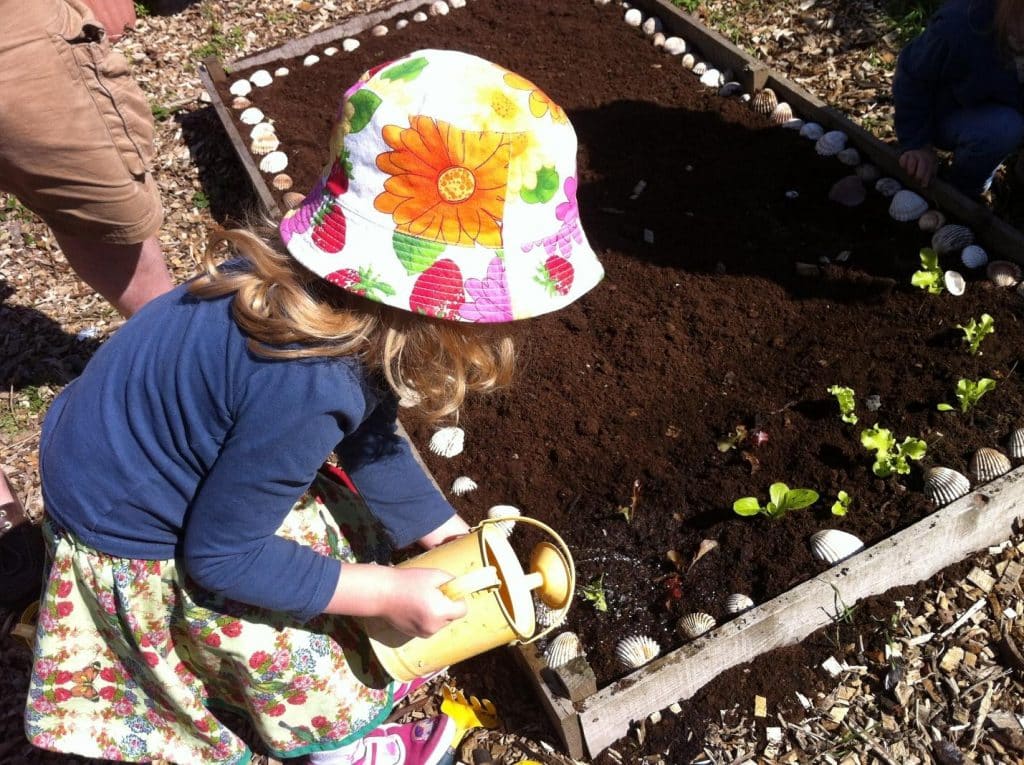 Gardening is one of the most educational, enjoyable, and versatile activities for your kids. You don't even need a large yard to get them started. A small, empty patch, or even a pot or two with dirt is enough to start growing. Not to mention, there are several benefits too!
Gardening is a great activity for kids:
There are so many reasons to introduce your child to gardening. Not to mention the reason you should be gardening.
Gardening Brings Kids Closer To Nature
Gardening allows the little ones to explore nature up close. Feeling dirt, planting tiny seeds to watch them sprout and grow into beautiful plants is a fantastic experience that unfolds nature's awe-inspiring aspects.
Gardening Develops Motor Skills in Kids
Building motor skills is an integral part of a child's development. Gardening is a versatile experience that stimulates several motor activities in a single project. Digging, scooping out dirt, planting seeds at the correct spacing, watering the plants at the base without drenching the leaves are only a few of the things that will develop essential fine motor skills in the child. 
Gardening Promotes A Healthy Diet for Kids
While children aren't too keen on trying out new foods, especially vegetables, gardening can help encourage healthy eating. They'll naturally love to eat what they grow! The love for healthy food that they develop at this stage will stay with them for life. 
Gardening Instils Responsible Attitude in Children
Growing a plant involves much attention and care. Tending a vulnerable seedling, watering it regularly, watching out for pests and other problems will build a sense of responsibility and patience. 
Top 7 Kids Gardening Kits And Tools 
So what's in store for our little future gardeners? Let's check out the top 7 kids gardening kits and tools that will instantly get your young ones in the mood for some digging!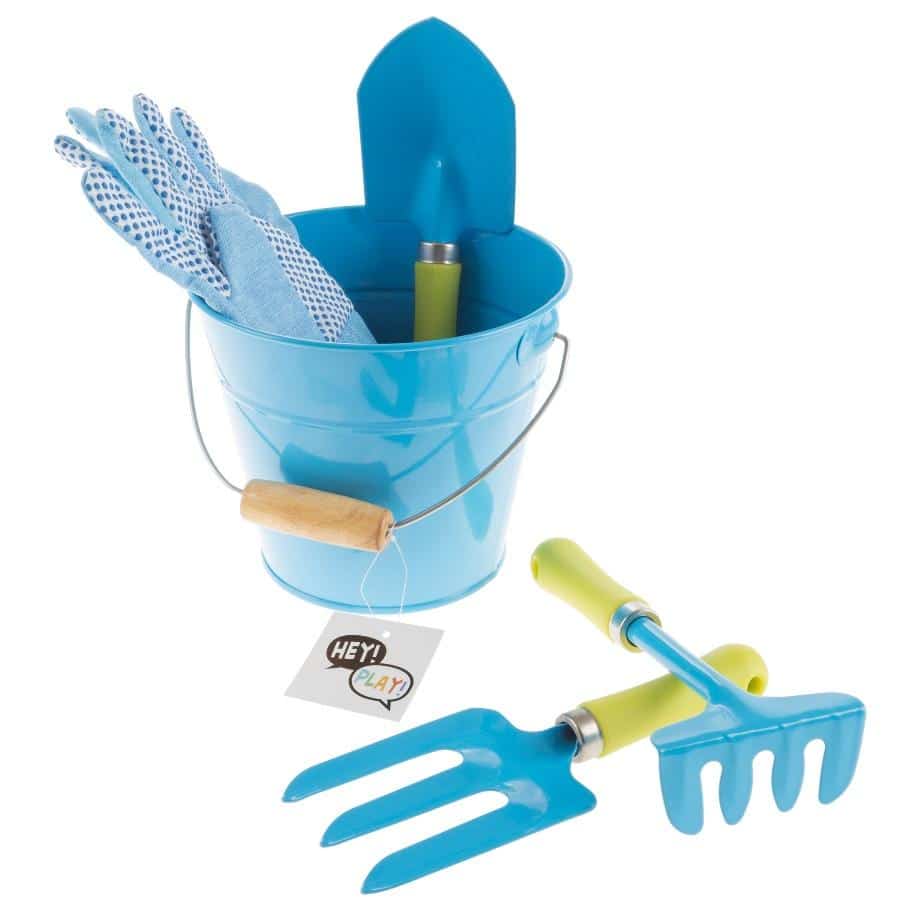 This one is our favorite kids gardening kit since it comes complete with a shovel, fork, rake gardening gloves, and a bucket. All the components store neatly in a gardening tote bag, so your little one doesn't lose them. Made from wooden handles and metal heads, the tools are great for most gardening chores and come with smooth, rounded edges to ensure safety. Available in two bright color options, blue and pink, the product promotes healthy outdoor activities and a love for plants.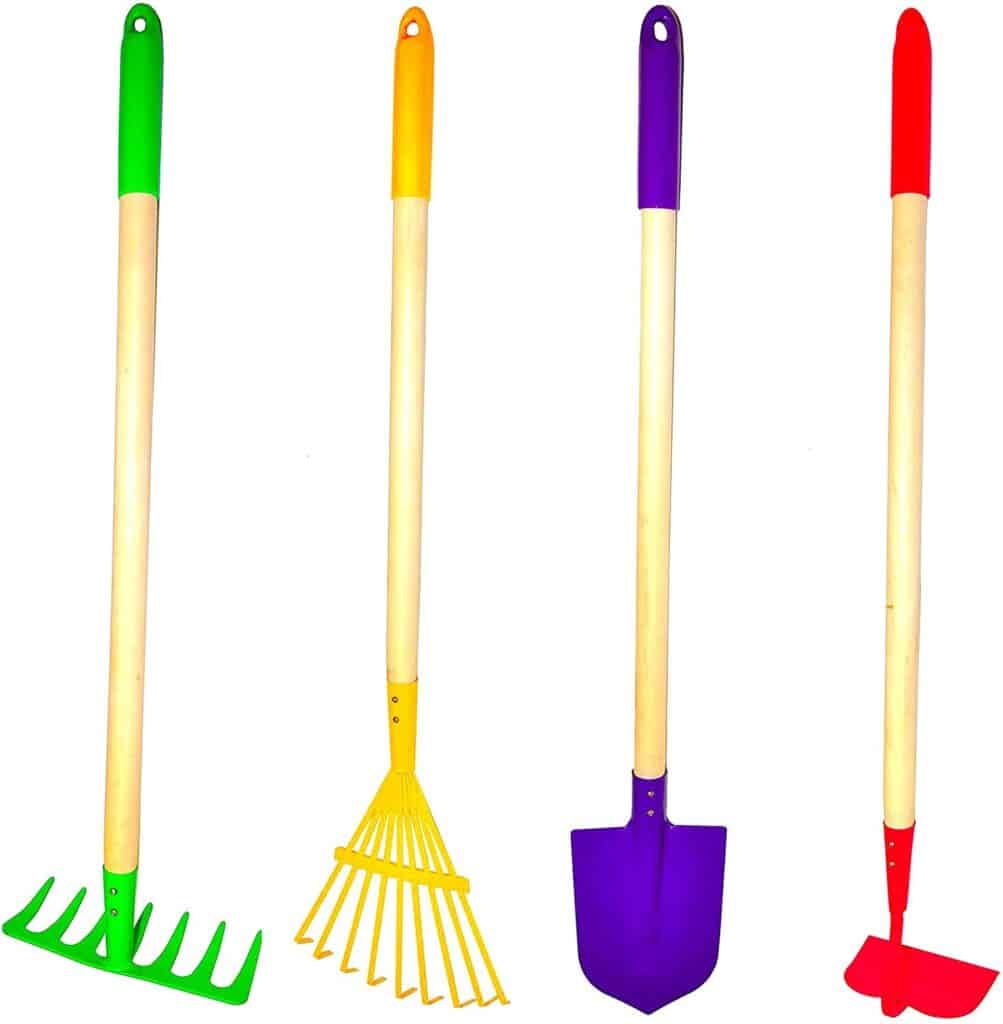 This 4-piece garden toolset offers kid-friendly long-handled tools for yard work. With a rake, shovel, hoe, and leaf rake, each with an average length of 27.5 inches, the set is perfect for older kids who love helping out their parents in the yard. The design is sturdy with wooden handles and metal heads so the tool won't fall apart even when put through some heavy chores.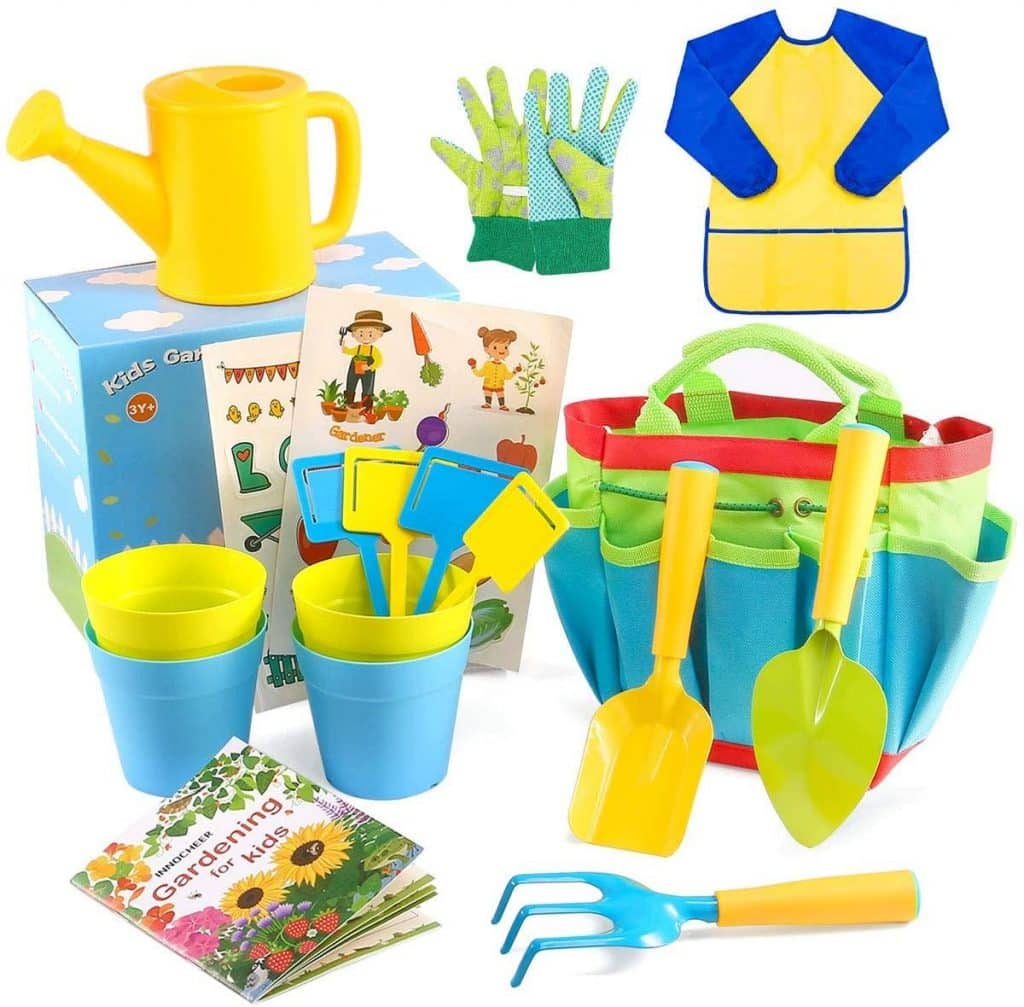 Perfect for preschoolers, this one is an attractive kids gardening kit, complete with all the things they'll need to set up their own little container garden. Three small tools, shovel, trowel, and rake, come with metal heads for actual gardening but are safe to use even for kids as young as 3 years. Besides the tools, your kid will love seeing pots, tags, watering can, gloves, smock, stickers, gardening book, and a tote bag to store everything safely. It's an excellent package to get little ones into the habit of growing.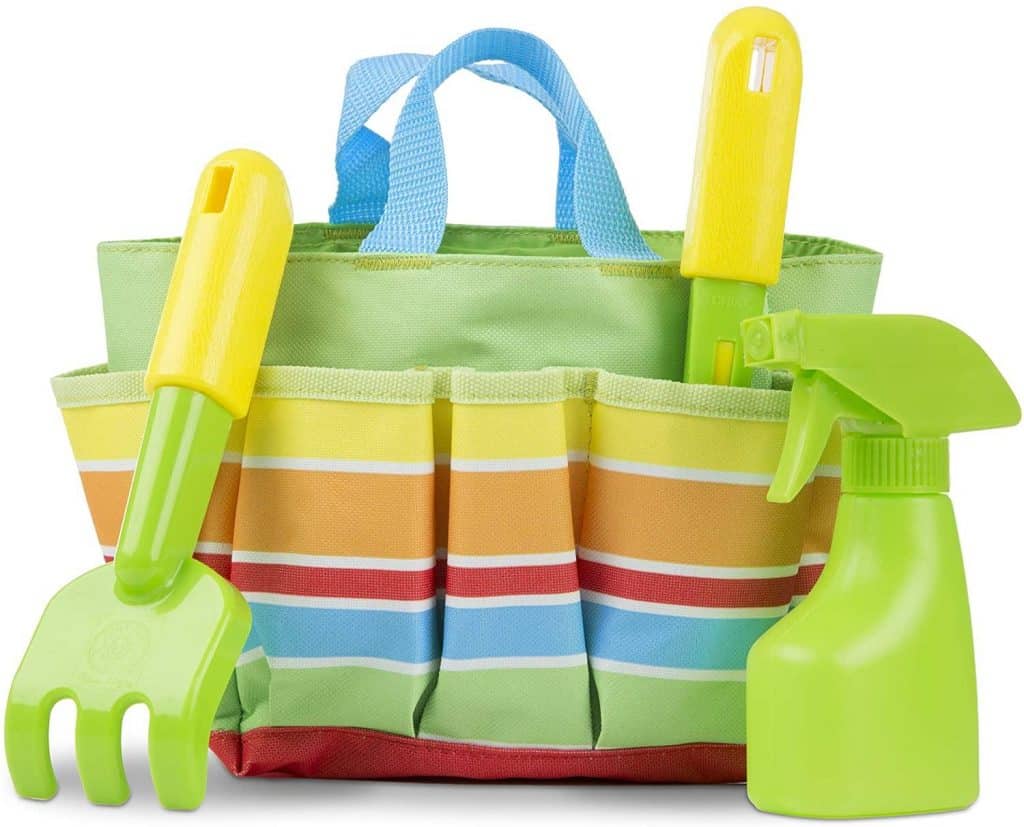 If you want to promote outdoor activities and learning in a toddler, this is the perfect set. It's inexpensive and comes with a good collection of tools and things to get them started. Besides a shovel and a rake, your kid will love watering seedlings with the included spray bottle. When not in use, all the items store safely in a bright tote bag. The plastic tools are easy to clean and completely safe for younger kids. However, they aren't designed for heavy use and may snap easily if put through extensive digging.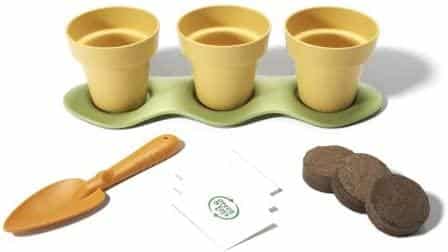 Made with recycled milk containers, this is a simplistic indoor gardening kit your child will love using. It may not have a long list of components, but your young gardener will find everything in there to start growing organic flowers and herbs on their window. The gardening kit includes three pots, a tray, and a trowel. Three soil discs and three organic seed packets are also there so the tad can start growing right away!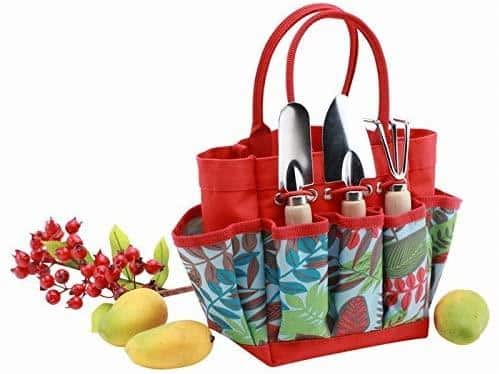 Along with a bright, colorful canvas tote with several pockets, this kids gardening toolset also includes some handy tools. The included rake, shovel, and trowel are made with metal heads and wooden handles so your little one can help you with your everyday gardening work. The water-resistant bag is perfect for carrying several items that the kid may need in the garden, like seed packets and gardening gloves, besides the included tools.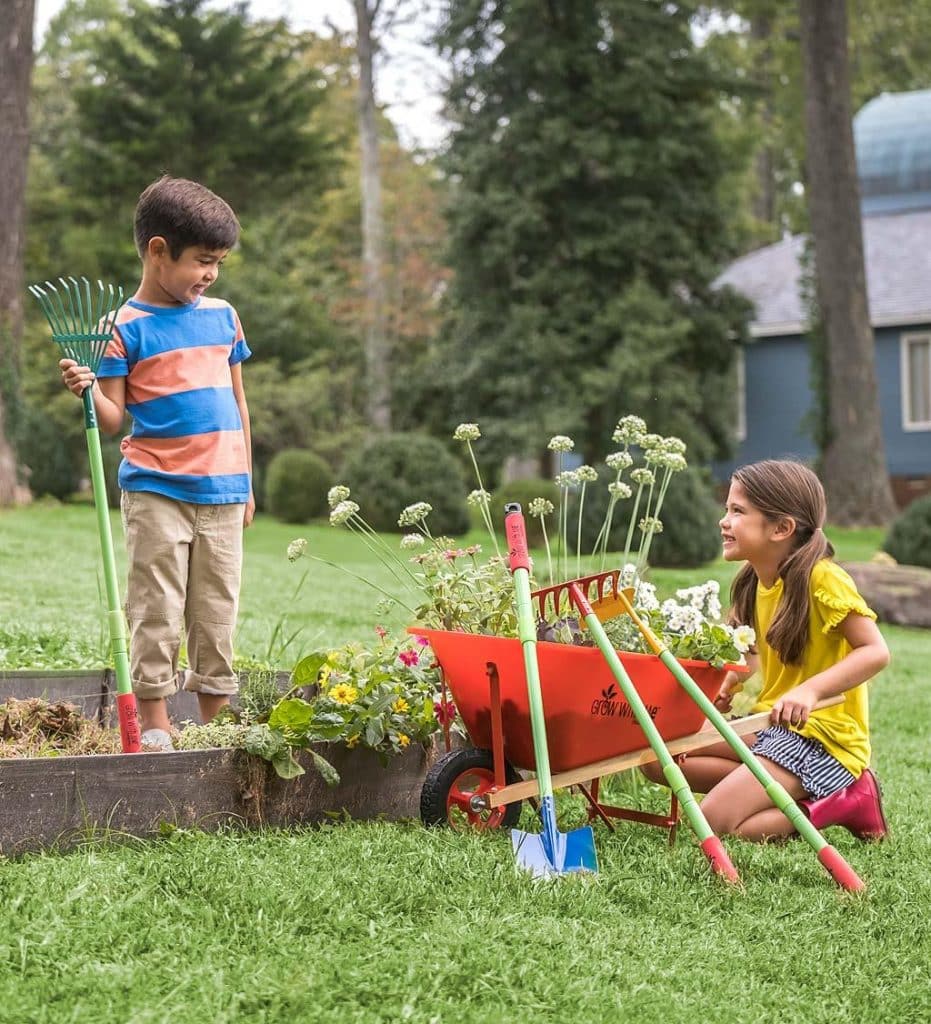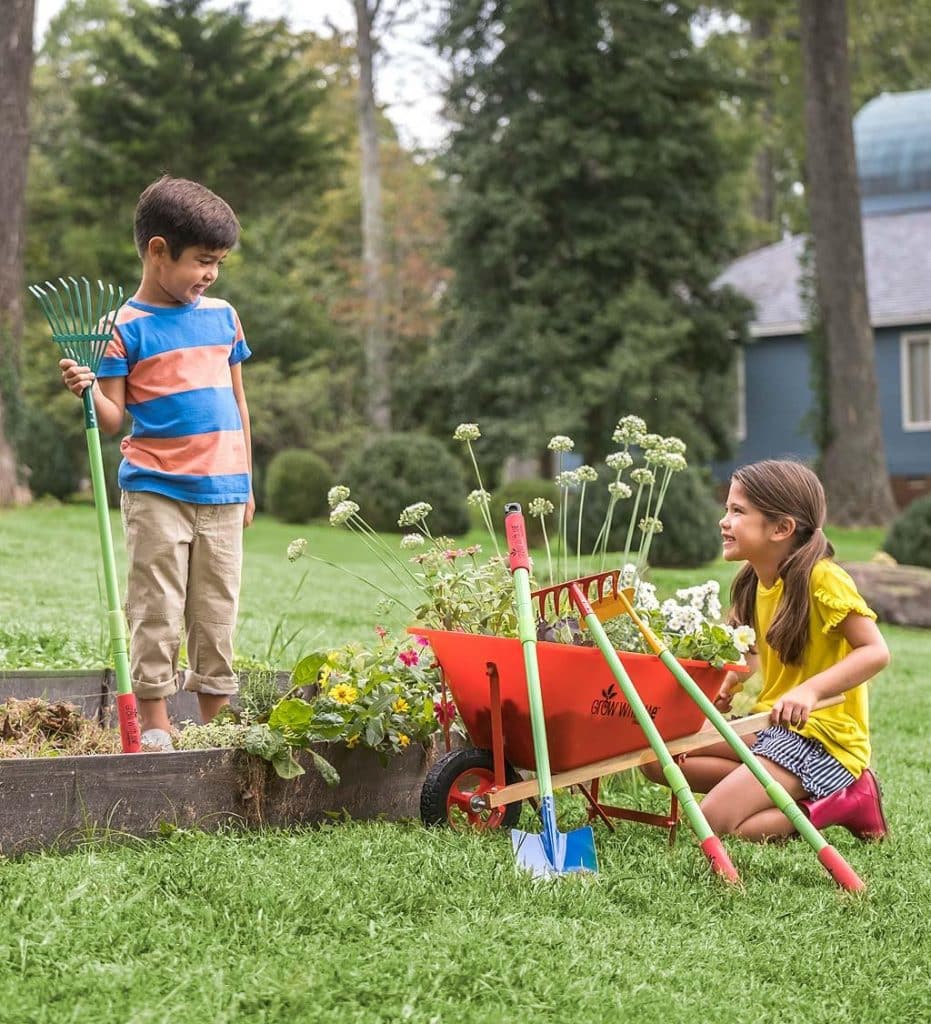 When your little gardener is ready for taller tools, it's worth considering 'Grow With Me' Garden Tool Set. Perfect for growing kids, each of the tools, including a shovel, hoe, rake, and leaf rake, are adjustable between 33″ and 39.5″ in length. They're comfortable and safe to use, and since they're made with metal shafts, the tools will easily live through some heavy yard work. The kids-friendly, yet sturdy wheelbarrow is an excellent addition for an amazing gardening experience. 
What To Look For When Getting Kids Gardening Kits And Tools
With so many gardening toolsets out there, how do you know what's right for your little guy? To make sure they make the most out of their gear and enjoy using it, here are some things you'll need to consider:
Child's Age – Gardening Toys Or Tools?
Consider your kid's age when shopping for their gardening tools. Is it suitable to let them use actual tools, or do you want plastic ones? Many toolsets available in all plastic are good for very young kids, and will even come in handy with some light tasks, like filling dirt in a pot. However, these won't hold up well against actual gardening work. 
For older kids, consider tools with metal ends and plastic handles. These will easily live through most small-scale gardening chores. Long-handled tools are also a good option for older kids. However, depending on the child's age, you may need to supervise them when handling these tools. 
Gardening Tool Kits Or Individual Pieces?
Do you want individual tools or a complete toolset? In most cases, toolsets are an economical option. They come with multiple pieces for a variety of gardening activities that your kid help out with. Packages with too many unnecessary parts might compromise on the quality of individual tools, and may even end up getting lost. A basic toolset, with a trowel, fork, and a watering can is perfect for getting them started.
Adorable Extras
Some toolsets come with the cutest extras. Gloves for gardening and aprons are a good addition to the set and will also save the activity from getting too messy. 
Gardening Safety Tips For Kids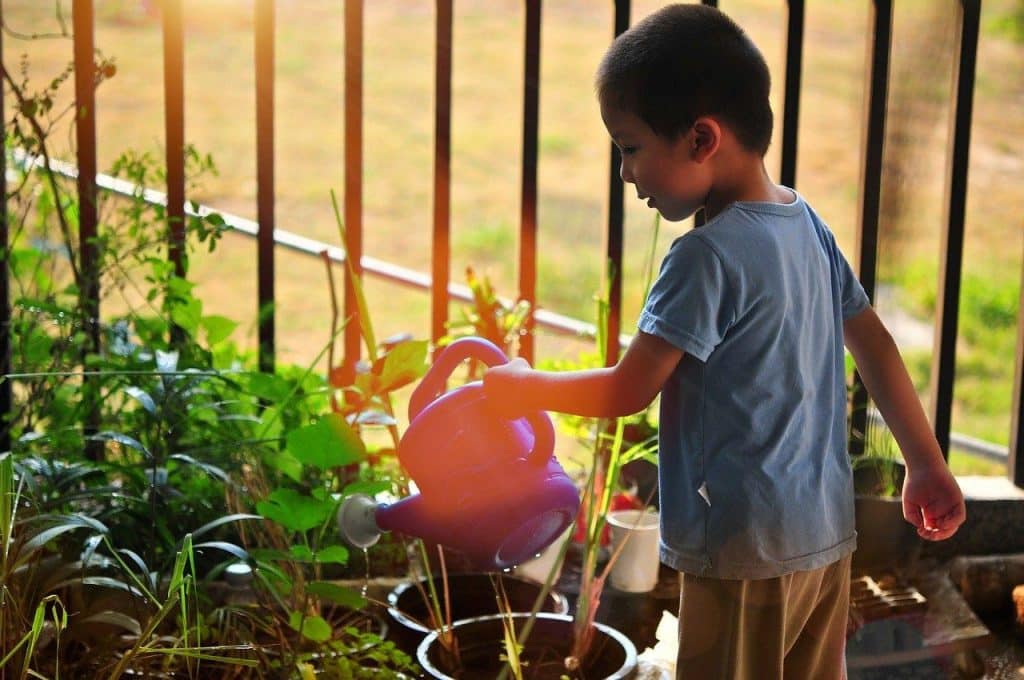 Gardening is one of the best learning activities for your kids. However, to ensure a positive and safe experience, there are some tips to keep in mind:
Ensure your child wears sunscreen before going out in the garden, especially during the afternoon when sunlight is the strongest. 
Make sure they wear proper shoes to prevent cuts. 
Chemicals like pesticides can be harmful to your child and pets. Avoid using them entirely if your kid visits the garden often.
Make sure they don't pick and eat fresh produce from the garden without washing them.
They should wear gloves when handling soil to keep their hands safe from insect bites and scratches. 
Some plants are dangerous to ingest, or even touch. Make sure you don't have any toxic plants in your garden.
Adult supervision is essential all the while that the kids are in the garden.  
Conclusion
So, from our list of top 7 kids gardening kits and tools which one do you like the most? No matter what you choose, these tools are bound to get your child out in the garden and have some fun.