Hamama Microgreen Kit Review – Grow Microgreens at Home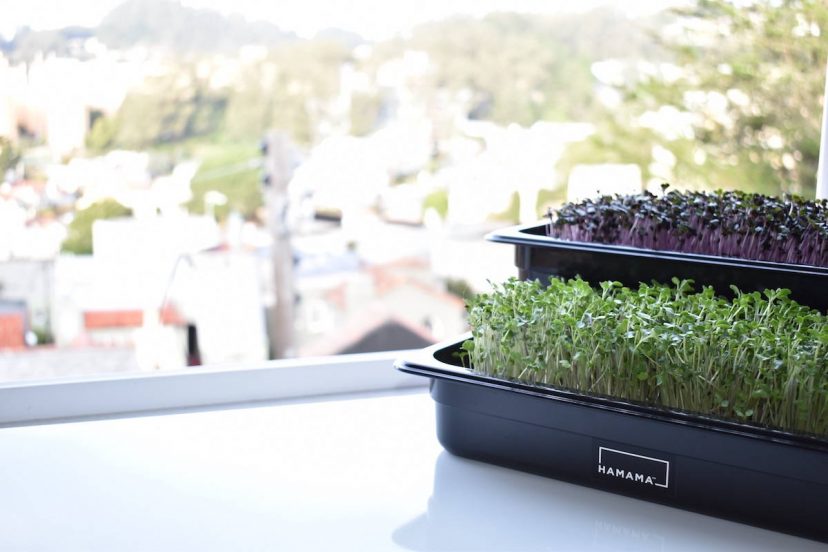 So you're thinking of a sustainable way to supplement your diet with greens and you've been looking for a foolproof way to grow those potent greens. Now you heard about the Hamama Microgreen Kit and how you can grow your greens within 7 days but you're wondering whether or not you should give it a try. Having purchased the kit, here is our unbiased review of the Hamama Microgreen Kit. 
About Hamama
Before anything else, let's talk briefly about this company. Hamama is a manufacturer and distributor of indoor growing kits based in San Francisco. Their goal is to help anyone, anywhere to grow nutritious and delicious microgreens at home year-round. 
Just in case you're wondering what microgreens are, they are young vegetable greens, which some refer to as baby plants. They are the stage veggies grow to after they become sprouts. Microgreens have soared in popularity over the years because they are rich in nutrients and are an easy way to eat your veggies.
What is the Hamama Microgeen Kit?
HAMAMA Home Microgreens Growing Kit
GUARANTEED TO GROW: All HAMAMA microgreens growing kits are guaranteed to grow. If your kit doesn't grow as advertised, we'll work with you to figure out what's going wrong, send you a replacement at no cost, or give you a full refund.

THE EASIEST WAY TO GROW YOUR OWN FRESH MICRO GREENS: This microgreens growing kit has everything you need - easy picture instructions, microgreens tray, and microgreens seeds.

CLEAN, NUTRITIOUS, HOMEGROWN: Grow delicious, nutritious, micro greens at home in just 7 days!
Prices pulled from the Amazon Product Advertising API on:
Product prices and availability are accurate as of the date/time indicated and are subject to change. Any price and availability information displayed on [relevant Amazon Site(s), as applicable] at the time of purchase will apply to the purchase of this product.
The Hamama Microgreen Kit is a pre-packaged, fully-contained system that makes it easy for anyone to grow their own food. The kit contains everything you need to start growing your veggies from your home. 
When you purchase the Hamama microgreen kit, you will receive a package that includes a microgreens tray, three seed quilts, and instructions on growing. The quilt is basically a coconut coir sheet "sandwich" with evenly spaced, seed and grows medium-filled pods between the sheets, all held together by some sort of adhesive. The idea is to ensure consistent moisture in a controlled environment. 
Hamama Microgreen Kit – How it Works
By now, it is clear that the Hamama Microgreen Kit is hydroponic; meaning it only needs water to grow. First thing, fill up the tray up to the waterline, place the quilt in, press down, and put the container in a place with light. It doesn't have to be direct sunlight as ambient light will work just fine. 
With the first 24-48 hours, you should see signs of some germination. The seed pods will begin to visibly swell and then you should see the little sprouts beginning to grow each day. After 5 days, you can pull back the covering to let the eager sprouts grow. Somewhere between 7-10 days, your microgreens should be ready to harvest. You can choose to either pull or cut the plant – both ways will get the job done. 
Why Buy the Hamama Microgreen Kit for Microgreens?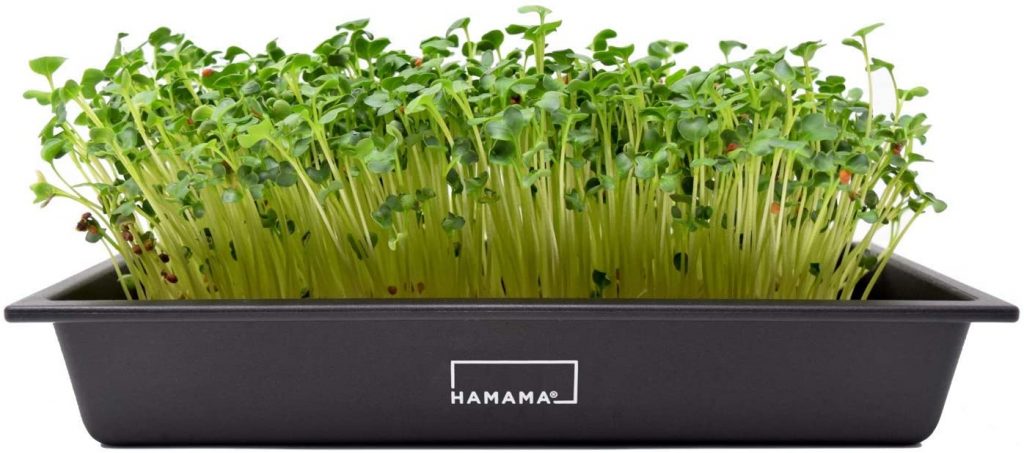 Overall, this kit is a great product, and here are some reasons why we think it is:
Packaging: One of the first things you will notice about the Hamama Microgreen Kit is that the package looks nice and is well put together. The instructions are detailed and straightforward. You will have no troubles growing your own veggies even if you have no experience at keeping a plant alive. This means you can even give your loved ones as a gift. 
Convenience: Growing your own veggies with the Hamama Microgreen Kit is super easy. You don't have to worry about digging your hands into dirt. Or trying to make sure the plants get adequate sunlight. You can grow your veggies with low light and all you have to do is add water. No repeat watering needed!
Clean and safe to eat: Hamama Microgreen Kits don't use any soil and so doesn't require any fertilizer or pesticide. So you can trust that your microgreens are clean and safe to eat. You can snip them and enjoy with zero fears. Plus, the tray is BPA-free, reusable and dishwasher safe.
Nutritious and delicious: After harvest, you will realize that the Hamama Microgreen kit doesn't just grow fast but also tastes great. The greens smell quite pungent and add a nice flavor to the dish. They are a fantastic way to give your taste buds a treat.
Guaranteed to grow: If you're familiar with growing kits, you can probably relate with the feeling of doubts that the seeds don't always grow. However, Hamama prides in delivering microgreen kits that are guaranteed to grow.
Refund policy: If you're unhappy with your purchase because the kit didn't grow as advertised, you can request a replacement at no cost. Of course, Hamama will try to figure out what happened. But if you're still unsatisfied, the company will give you a full refund.  
Hamama Microgreen Kit Review – Conclusion  
Going by its affordable pricing, the convenience it offers, and how great it tastes, the Hamama Microgreen Kit is worth giving a try! Regardless of where you live or your gardening skill, you can experience the joy and excitement of growing your own veggies. You can get started as soon as you receive the kit. Expect consistent results right out of the starting gate. Once you have the greens you will need some great microgreen recipes.