The Tastiest Ways That You Can Eat Mushrooms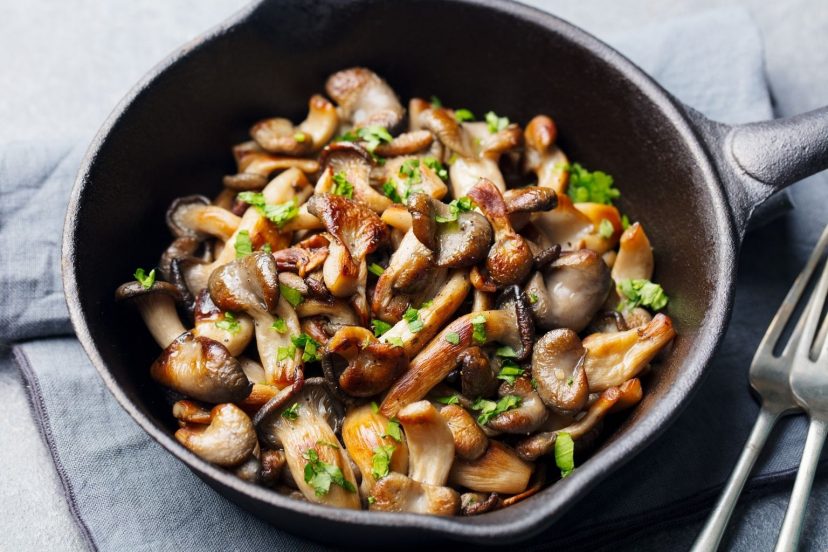 We've talked about the variety of mushrooms you can grow in your garden. Everything from Shiitake, Portobello and Oyster mushrooms can be a surprisingly healthy ingredient in many dishes, mushrooms can be tossed in a salad or grilled at your next backyard barbeque. They are full of vitamins and boosts anti aging properties! So, grab a fork, and let's dig into some of the most delicious ways to eat mushrooms!
Cream of Mushroom Soup
Cream of mushroom soup is a classic dish, and for a good reason. It's one of the tastiest ways you can eat mushrooms. It's creamy, hearty, and a great winter dish—plus, you can make it with vegetable stock to suit a vegetarian lifestyle.
All you need to make this is a few mushrooms, some flour for thickening, and some basic ingredients, like butter or oil for sautéing. It's essential to cook the mushrooms first if you want them soft. Otherwise, they'll stay crunchy in the soup.
Roasted Mushroom Kebabs
This is the perfect summer recipe since you can make it on the grill in no time. Try different types of mushrooms for varying flavors.
Fire up the grill (or preheat the oven to 425 degrees Fahrenheit).
Brush mushrooms with olive oil, salt, and pepper and place them onto skewers.
Coat the grill rack with cooking spray and place the mushrooms directly on the grill covered for 4–5 minutes, turning occasionally.
Alternatively, place them on a baking sheet and roast them for 10 minutes before turning the kebabs over and roasting them for another 10 minutes.
Serve alongside a green salad or a grain dish of your choice.
Scalloped Mushrooms
This delicious dish is a combination of mushrooms, onions, garlic, and herbs, which you can transform into a creamy and cheesy dish that you can serve as a side or main course. Plus, you can grow all the ingredients for this dish in your garden! Before growing mushrooms, especially if you're taking on this task for the first time, consider acquainting yourself with some mushroom growing terminology to get started.
Spicy Fried Mushrooms
Spicy fried mushrooms are a delicious side dish with a kick, making it the absolute tastiest way you can eat mushrooms. They're ready in 15 minutes, and you can use them as a meat substitute in various meals. These crunch-coated treats make a killer addition to your favorite salad or even replace meat in a tortilla filled with chopped tomatoes, beans, cheese, and shredded lettuce.
First, rinse and drain your mushrooms. Then, heat cooking oil to medium-high. Finally, dredge the mushrooms in a beer batter mixture and place them in oil to fry until both sides are crispy and brown.
Mushrooms are versatile food that you can make various dishes with. They work well as a side dish, snack, or as the main attraction in the middle of your plate. You can even eat them alone as an appetizer if you want to. The possibilities are endless! Mushrooms are also healthy for you and can be a meat substitute for your vegetarian friends. If you've never cooked with mushrooms before, it's worth trying out one of these tasty recipes.