How to Grow a Venus Flytrap Indoors – The Wonder Plant
The Venus Flytrap is an exceptionally unique and spectacular example of carnivorous plants! Combined with its lively colors and extraterrestrial appearance, this small-sized plant never fails to capture your attention. The way it grasps its prey with its little bifold jaws, and bristly fringed "teeth" makes it look like some alien landed from planet Venus. Even Charles Darwin was amazed by its dramatic manner of catching prey and described it as "the most wonderful plant in the world." So read on to learn how to grow a Venus Flytrap indoors.
All through the summer, it traps everything from flies to beetles and crickets to mosquito to nourish itself. The Flytrap attracts insects by its sweet odor and the alluring color of its inside body. It is an enthralling sight to see its hinged leaves shaking furiously, accompanied by ghast buzzing. So, it's fun to grow these little executioners to create diversity in your indoor space.
However, this unusual plant requires a little different care than other indoor plants. Therefore, you'll have to carefully mimic its living conditions indoors, for it to grow successfully. By following the instructions provided in this guide, you will not have any trouble in growing this little plant. These tips will help you keep your flytraps happy indoors. 
Soil Requirement
Regular potting soil, or compost, is not suitable for your Venus flytrap. You can mix horticultural sand and sphagnum peat moss by 1:1 ratio to make an ideal potting mix for your plant. It provides the best drainage and moisture retention.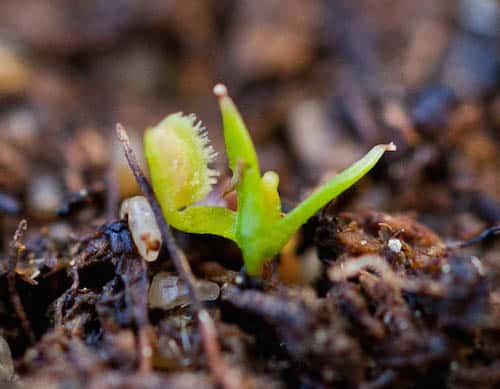 Light
Venus flytraps need bright indirect light for healthy growth. You can choose a sunny windowsill to put your plant. Avoid placing it in direct sunlight, especially during the summer season, because it may cause the leaves to turn crispy.
If you are using fluorescent bulbs for artificial lighting, keep your flytraps 4-8 inches away from it. However, insufficient lighting can also make its leaves weak and floppy, and the inner side of the trap loses its red color.
Water 
Venus flytrap likes damp conditions. So, it would be best if you water it every few days. But, if you are living in hot and dry areas, then you'll have to water it daily. Distilled water, deionized water, or rainwater are the best options for watering your flytraps.
This is because this carnivorous plant thrives best in an acidic environment. The tap water or even filtered water usually contains many alkaline minerals that can cause harm to your plant and eventually kill it.
Repotting A Flytrap as They Grow
As your traps increase in number and size, they need more space to thrive. So, you may need to transfer them into larger pots. This way, traps, and roots will get more breathing space. The growing roots can cause compactness of potting medium (sand and moss).
Hence, larger pots are a good idea to reduce compactness and improve aeration. It's better to choose plastic pots rather than clay or cement pots because minerals present in the clay or cement can mix up with the water supply that can lead to a mineral burn.
Form Plastic – Modern Square White Plastic Flower Pot
GREAT MODERN LOOK - These beautiful square white flower pots will provide an amazing decorative look for all of your plants. The attractive wave pattern gives the illusion of two different colors, but this is simply the shadow created by the design.

TWO PACK - Both pots measure 7-3/8 x 7-3/8 at the top, 5-1/2 x 5-1/2 at the bottom, and 6-1/4 tall.

NO DRAIN HOLES - These pots come without drain holes, but they can be added if desired.

HIGH GRADE PLASTIC - Thoughtfully designed flowerpot, made from durable yet light weight plastic for years of enjoyment with virtually no maintenance.

SATISFACTION GUARANTEE - Take advantage of these benefits for multiple home garden locations around your home or office with this 2-pack of planter pots! They are backed by a 90 day manufacturer warranty.
Prices pulled from Amazon Product Advertising API on:
Product prices and availability are accurate as of the date/time indicated and are subject to change. Any price and availability information displayed on [relevant Amazon Site(s), as applicable] at the time of purchase will apply to the purchase of this product.
Flowering
For a potted flytrap, blooming is unnecessary. Flower production can be energetically costly for Venus Flytraps; by cutting its flowers, the plant will grow more vigorously during summer.  If you are not an experienced gardener and don't know how to take care of flowering plants, it can cause the weakening of your flytraps and possibly death. Once you notice the flowering stalk growing in the middle of the plant, remove it immediately.
Feed a Venus Flytrap
As the name indicates: their main diet is flies and other small insects. 
Besides their beauty in an indoor space, they can also make your room free from buzzing insects. If you are growing your Flytrap in a closed terrarium, then the easiest feeding method is to release small insects inside the terrarium. If they are growing indoors, you need to help them in capturing insects.
You can put insects on an open leaf pad with a tweezer, and then tickle the hairy edges until it closes. After capturing, they can digest them. Make sure the size of feeding insects is smaller than the size of the traps. Flies, small spiders, beetles, and caterpillars are good options to feed your plant. 
WGVI Glass Hanging Planter Air Fern Terrarium
Perfect for Home Decor --- Our glass hanging planter is idea for succulent, moss, tillandsias, air ferns, or DIY mini flower garden.You can decor your living-room,balcony,working table with these simple and elegant planter terrariums to purify air and add green vigor

Sizes in Different Shapes --- Globe-shaped is 4W x 5H in diameter, Openings diameter is 2; Teardrop-shaped is 3W×5.5H, Openings diameter is 2;And Hanging terrarium's dimension deviation possible between 0 - 0.5 inches.

High-quality from Detail -- As a professional direct importer of glass and vase, we are fouse on more on the product detail to improve customer experience. Our plants hanger vases are made of high boron silicon heat resistant glass that are lightweight and durable.

Package Included: 1 x Teardrop terrarium, 1 x Globe terrarium,please note that the Plants and other decorations are not come with this set.

Warranty Service -- Customer experience and satisfaction is our top priority.And glass vases are fragile products, please treat it carefully when installed. If you receive a damaged or defective product due to the shipping, please directly contact us and we will make you a 100% refu
Prices pulled from Amazon Product Advertising API on:
Product prices and availability are accurate as of the date/time indicated and are subject to change. Any price and availability information displayed on [relevant Amazon Site(s), as applicable] at the time of purchase will apply to the purchase of this product.
Winter Dormancy
Venus flytrap needs to go dormant over winter (November to February) for healthy growth all around the year. So if you live in a warm area, put them in a colder corner of your indoor space (1 to 10°C) when winter arrives. You can even keep your flytraps (covered in a plastic bag) in the fridge for the whole winter period. Frequently check them to make sure they have adequate water.
When the temperature gets down, its leaves will turn black, and the plant dies back to the rhizome level. It is a normal phase of dormancy, and you don't need to get worried as it will make your flytraps healthy and strong. When the winter is over, trim off the dead growths and repot the plant. If you take care of your flytraps properly, then they can live up to 20 years.
Pruning of Flytrap Wilted and Dead Leaves
It is best to prune any wilting, dying, or dead leaves and other parts of plants as soon as you notice them. This is because these parts are vulnerable to mold growth that can rapidly spread and kill the rest of the plant. Still, if you see any fungal growth, remove the affected parts, and lightly spray the flytraps with a fungicide.
Fiskars Softgrip Bypass Pruner
Bypass blade design is ideal for pruning green, living growth like ornamental shrubs and trees

Razor-sharp, precision-ground blade cuts with less resistance than thicker blades and stays sharp for lasting value

Low-friction coating resists rust, helps the blade glide through wood and prevents the pruner from gumming up with sap and debri

Cut capacity: 5/8 inch

Lifetime warra
Prices pulled from Amazon Product Advertising API on:
Product prices and availability are accurate as of the date/time indicated and are subject to change. Any price and availability information displayed on [relevant Amazon Site(s), as applicable] at the time of purchase will apply to the purchase of this product.
Venus Flytrap Temperature and Humidity 
Venus flytrap prefers warm places to grow. The day temperature between 70 to 75 oF (21-24 oC) is ideal for their growth. The night temperature should not go below 55 oF (13 oC). The plant also needs at least 60 percent humidity for proper growth and development. 
Conclusion
Growing a Venus Flytrap indoors is not difficult , as long as you provide all the right conditions for its nourishment. All this plant need is a sun porch window, frequent water, small insects, and freezing temperature during the winter season for dormancy.
Mimic these conditions, and you can grow this amazing plant successfully in your indoor spaces. One more important thing to remember is that try not to put any pencil or your finger in its traps to trick them into closing. It wastes your plant's precious energy and damages its delicate leaves.