What Are Gardening Zones And What's Your Planting Zone?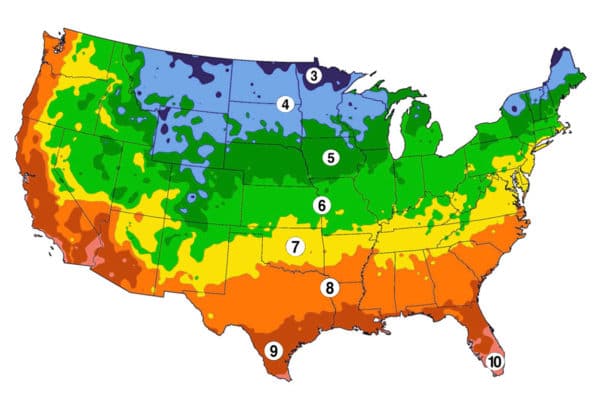 When selecting plants for your garden at the nursery, you may have encountered the term "hardiness zones" or "growing zones" multiple times. What exactly are these gardening zones, and which zone does your region fall under. The knowledge about gardening zones is crucial to be able to select the correct varieties for your area. Specific plants are suited to particular growing zones and won't thrive elsewhere.
If you've been asking yourself, "what gardening zone am I in?" you're at the right spot. Continue reading and learn all about USDA gardening zones to understand the zone you are in and the kind of plants that will thrive there.  
What Are Planting Zones?
Planting zones are standards through which gardeners can determine which plants can thrive in particular regions or zones. In general, these zones define the plants that can survive the winters in a specific area.
However, do keep in mind that these zones are not a definitive implication of a plant's survival. Soil, humidity, temperature, wind, and care also play a role in determining how well it will grow.
USDA Plant Hardiness Zones
The most widely used standard for planting zones is created by the US Department of Agriculture (USDA). The USDA Hardiness Zone Map divides the regions of the US and Canada into a total of 13 planting zones. Zone 1 is the coldest, with an annual average minimum temperature between -60°F  to -50°F, and zone 13 being the hottest with an average minimum winter temperature of 60°F to 70°F.
Each of the zones differs by around 10-degree Fahrenheit in its average annual minimum temperature from its neighboring zones.  Each zone is subcategorized into "a" and "b," varying from its neighboring subzones by 5°F, "b" being hotter than "a." For example, zone 1a is going to be 5°F colder than zone 1b.
USDA plant hardiness zones are not followed throughout the world. Australia and Europe follow their own standards for deciding the hardiness of plants.  
Why Is There A Need For Gardening Zones?
So why exactly do we need gardening zones? That's because not every plant variety will happily grow in just about any climate you set it in. Plants and seeds in the nurseries are labeled according to their USDA growing zones. The zones mentioned on the label are the regions where you'll grow that particular variety most successfully. Outside those zones, the plants will have a hard time surviving.
Growing zones are most useful when growing perennials. That's because they need to be able to survive beyond one growing season and will also see the harsh winters. With growing zones, you can be sure if the variety you plan on growing as a perennial can tolerate the minimum temperatures you get in your region.
What Gardening Zone Am I In?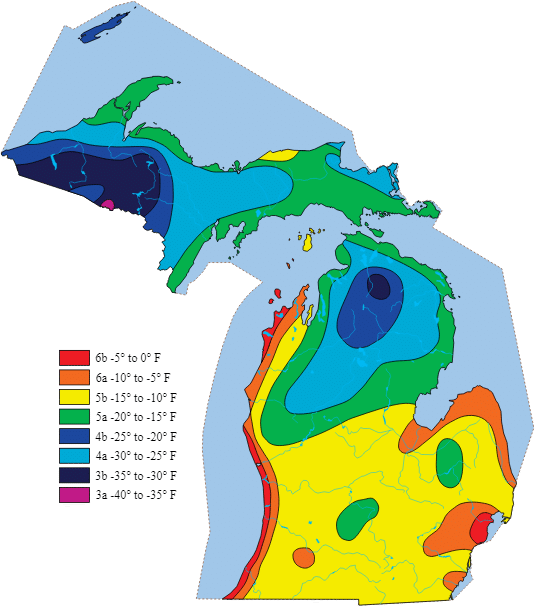 If you're planning to adorn your outdoor landscape with plants, the first step is to know your planting zone for sure. Don't make assumptions and think you know what grows in your region. With the exact zone in hand, you'll have a much more versatile choice for growing in your garden, with the assurance that they will survive through the winters.
So if you're asking yourself, "What gardening zone am I in," the answer is simple. Click here to go to the USDA official website to find the map of planting zones. Click on your state on the map or select it from the drop-down menu. You can also enter your zip code, and the website will give you an enlarged map of your state. Pinpoint your location and read the zone from the color-coded bar on the right side of the map.   
How Do I Use My Gardening Zone?
Now that you know your gardening zone, you can easily pick perennials that suit your climate. Select plants that have your zone well within their growing zone range. Species that are only marginally hardy in your region will be challenging to care for, especially for beginners.
They'll be susceptible to winter damage and may show poor growth and low flowering and fruiting. Unless you're very particular about their growing conditions and strive to keep them comfortable even in an unfavorable environment, it's unlikely that they'll thrive.
Planting native species is your best bet, especially if you're a beginner. These are the ones that are best adapted to your zone and grow naturally in your region. If they already grow in the surrounding, it's a no-brainer that they'll thrive in your garden too. When growing plants suited to your home's hardiness zone, you can confidently plant, grow and harvest your plants with little worry about problems.
As for the annuals, like vegetables, planting zones don't play a significant role. Since annual varieties are only required to survive for a single growing season, knowledge about the length of their growing season and frost-free days you have in your region are more important.
Using Microclimates For More Versatile Growing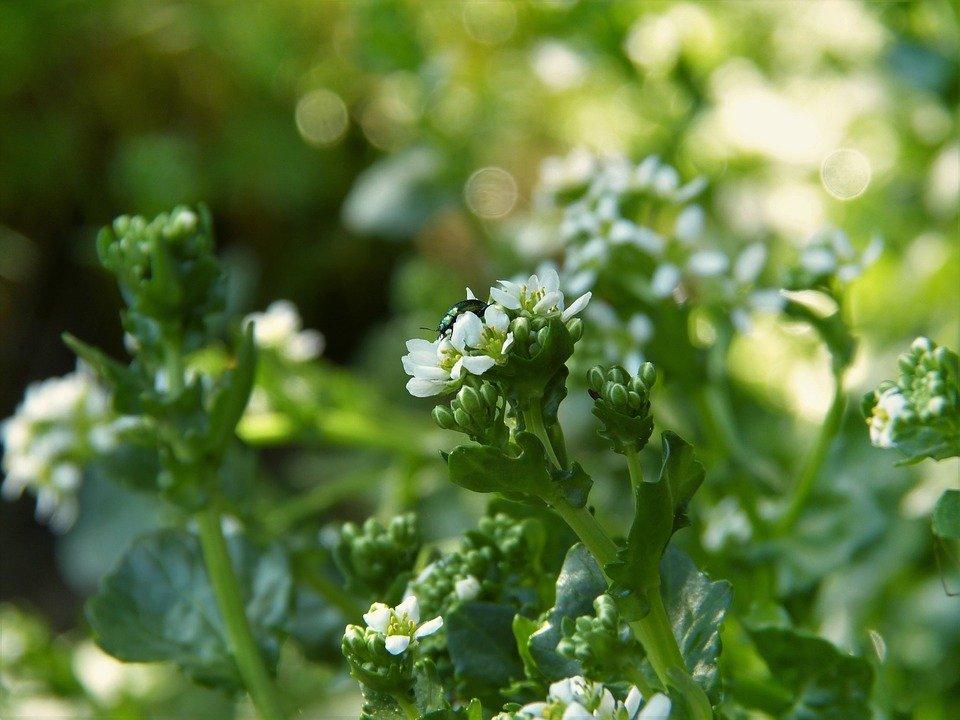 Planting zones are a helpful guide, especially for beginners, but it's not a strict rule that needs to be followed. The expert gardeners can sometimes use microclimates to grow plants that aren't suited to their growing zone in general (or macroclimate).
A microclimate is the climate of a small specific area that's different from the general growing zone environment in which that area exists. For example, a sunny spot in the garden that's protected from frost will have a slightly higher microclimate than the climate in its growing zone. Gardeners can have success in growing plants suited to the neighboring warmer zone in this particular spot.
If you're living in zone 5, it might be a good idea to plant something hardy to zone 6 in a sunny spot in your yard. Keep in mind that this is just experimental. There's no guarantee of being successful in growing plants out of your growing zone. 
Microclimates can also be colder than the general climate of the growing zone you are in. For instance, a plant that usually thrives in a growing zone may experience frost damage if it's planted at a low spot where cold air might settle down during wintertime. A shaded spot in your garden can also be considered a microclimate. Ensure that the plants you get are sitting in a comfortable surrounding that's well-suited to their growing zone.
NRC Canadian Gardening Zones Map
As highlighted earlier, USDA plant hardiness zones might be the most popular standard in use, but it's not the only one. Plant hardiness zone maps created by National Resources Canada (NRC) offers a different standard for judging a plant's hardiness. Click here to find NRC Canadian planting zone maps to decide "what gardening zone am I in?". 
On the NRC website, you'll find the planting zones map based on extreme minimum temperatures approach similar to that used by USDA. In addition, they also present another map, with more comprehensive growing information, including extreme maximum temperatures, frost-free periods, and more.
Plants For Your Growing Zone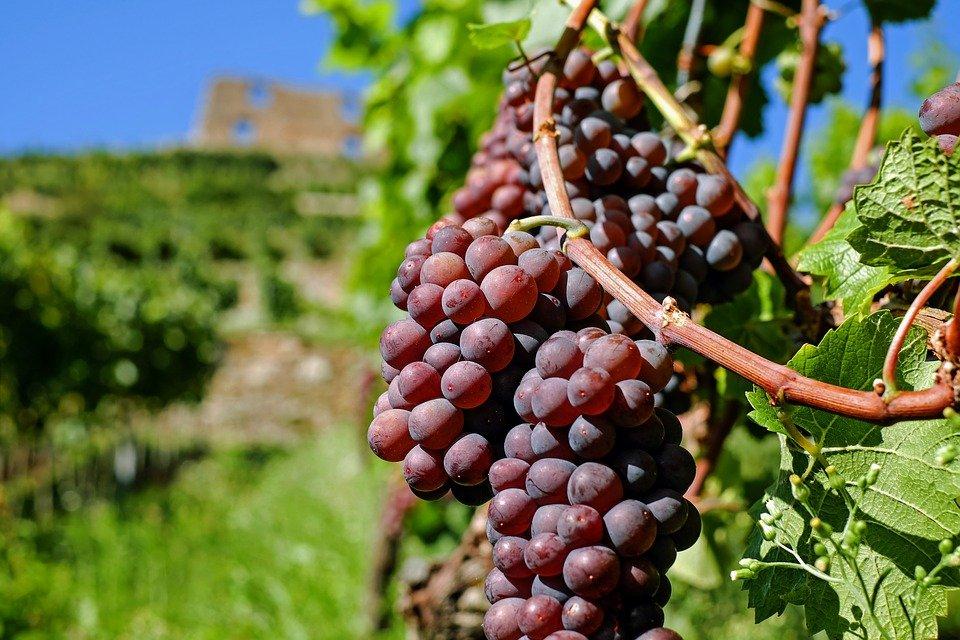 When you visit a nursery, you may have come across labels mentioning "cold-hardy," "frost-intolerant," or "frost-tolerant." They also often mention a range with them. That's usually the range of plant hardiness zones for that species.
These tags may confuse you at first. However, once you know how to identify plants according to their growing zones, you'll be better off planting the correct varieties to create a beautiful, healthy garden. Here's a list of some common plants you can grow in each of the gardening zones:
1. Zone 1 (-60°F to -50°F)
Dwarf Birch
Crowberry
Lapland rhododendron
Lily of the Valley
Sunflower
Goldenrod
Haskap
September Ruby apple
2. Zone 2 (-50°F to -40°F)
Paper birch
Eastern larch
American cranberry bush
Brookgold plum
Korean pine
Parkland apple
Sea Holly
Bleeding Heart
3. Zone 3 (-40°F to -30°F)
Smooth hydrangea
American arborvitae
Common juniper
Siberian crabapple
Cupid cherry
Early Gold pear
Waneta plum
Blanket Flower
Virginia Bluebells
4. Zone 4 (-30°F to -20°F)
Sugar maple 
Vanhouffe spirea
Panicle hydrangea
Ewing blue plum
Summercrisp pear
Coneflower
Plantain lily 
5. Zone 5 (-20°F to -10°F)
Flowering dogwood
Japanese yew 
Slender deutzia 
Harrow Delight pear
Pink Lady apple
Warren pear
Campanula
6. Zone 6 (-10°F to 0°F)
Japanese maple 
American holly
Late Crawford
Floribunda rose
Japanese Bottlebrush
7. Zone 7 (0°F to 10°F)
Atlas cedar
English holly
Texas rock rose
Blue Java banana
Fuji apple
Butterfly weed
Painted daisy
8. Zone 8 (10°F to 20°F)
Strawberry tree
Mexican orange
Laurustinus
Bronze banana
Clementine tangerine
Hardy geranium
Mexican petunia
9. Zone 9 (20°F to 30°F)
Tasmanian blue gum
Australian bush cherry 
Giant pumelo
Hardy kiwi
Passionfruit
Canna
Rhododendrons
10. Zone 10 (30°F to 40°F)
Rubber plant
Royal palm
Allspice tree
Dwarf Cavendish banana
Jackfruit tree
11. Zone 11 (40°F to 50°F)
Lime
Sago Palm
Macadamia
Mango
Bougainvillea
Drumstick allium
12. Zone 12 and 13 (50°F to 70°F)
African apricot
Amazon tree-grape
Black pepper
Tropical almond
Musaceae
Cannaceae
Conclusion
So what's the wait? Find out your planting zones, choose the perfect plants, and get growing!