7 Superior Indoor Garden Kits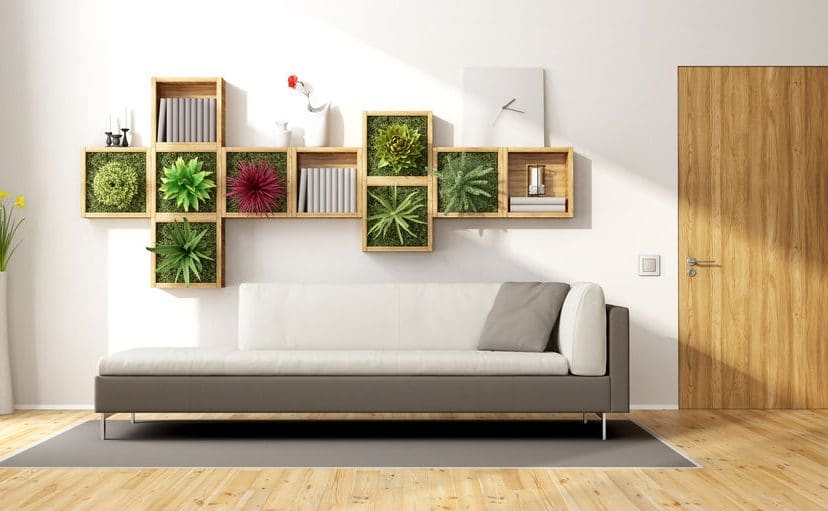 Having a green thumb and living inside an apartment or a house that doesn't include much of a yard can be initially disappointing. But thankfully, there are 7 superior indoor garden kits that allow you to keep your home green, lively, and vivacious. One of these seven kits is sure to fit perfectly into your home.

1. Back to the Roots Water Garden
This affordable indoor garden kit doubles as a self-cleaning fish tank aquarium using aquaponics. This indoor garden is perfect home for a new pet beta fish and your new plants. The Back to the Roots Water Garden is very easy to use as to the nature of the system between the tank and plants. The tank keeps the plants fertilized, and the plants keep the tank clean.
2. Modern Sprout Grow-Anywhere Growhouse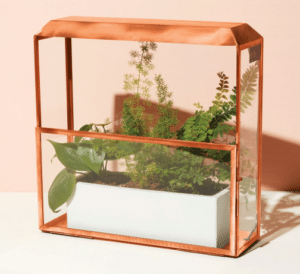 A chic and low maintenance addition to your greenless space, the Grow-Anywhere Growhouse from Modern Sprout is easy to install and maintain. The Growhouse comes with a wall-mounted house unit with copper finish, three jars, and an LED light with a built-in timer to make sure your plants get the light they need to thrive. The clear pull-down encasement makes it much easier to water your plants and keep them visible for a thriving visual adornment to your home.
3. Gardman 4-Tier Mini Greenhouse
For those with larger indoor spaces, the Gardman 4-Tier Mini Greenhouse is the indoor garden kit you want. It is also ideal for those who may have a small balcony or patio (screened or not) to roll your garden inside or outside. The frame is made from push fit tubular steel and is easy to assemble. This greenhouse does not include any additional lighting elements, so it is best for spaces with sunrooms or large windows. The tiers provide ample space to grow a variety of plants with little upkeep.
4. GrowLED Kitchen Garden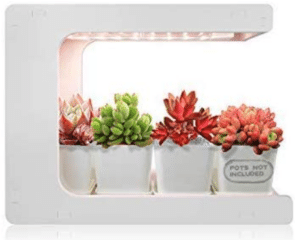 The ideal room to keep this one in is in the name, though you're not required to keep this indoor garden kit in the kitchen. It is small to keep from overcrowding any already tiny apartment kitchen counters and has a modern, minimalist design. The GrowLED Kitchen Garden features an automatic smart timer LED grow light to promote plant growth and is not harsh to the eyes. This indoor garden kit lets you grow whatever it is you want — succulents, mint, sweetgrass, etc., can all easily be at your disposal.
5. WallyGro Eco Vertical Garden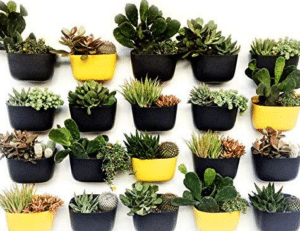 Wally Pockets are wall-mounted plant containers made of fabric and are hand-stitched with UVA resistant thread. The front panel is highly breathable to allow the plant soil to naturally aerate and maintain moisture levels. The fabric includes a waterproof barrier to prevent leakage. This indoor garden kit is ideal for those who want to feature a thriving living wall. Get as many pockets as plants and soon your home will be very green indeed.
6. Mindful Design Hydroponic Herb Garden
If you're looking for a hydroponic garden to add to your small space, the Mindful Design Hydroponic Herb Garden gives you the most return for your efforts. All you need to do is monitor the water levels and water your plants as needed. Because the LED grow light is adjustable, you can choose to grow large or small plants inside.
7. AeroGarden Harvest
With the AeroGarden Harvest, you can grow a variety of vegetables, herbs, and plants with the LED grow light 5xs faster in this system than in just soil. You can grow up to six different plants in this indoor garden kit. The indicators inform you when to add water, plant food, or adjust the light. This indoor garden kit with a built in grow light is probably best for beginning green thumbs who might tend to be a bit forgetful. 

Wrap-up
Whether you have some additional counter space or just some space on the wall, these indoor garden kits will make your home warm, inviting, and much more fruitful than before. Even though these are indoor gardens kits, there are some tools you might need to keep your garden growing.
Like this Article? Please Pin it on Pinterest.