Backyard Garden Design Basics: 8 Steps to a Better Backyard
A backyard garden should be a place where you go to for relaxation and serenity – not a place that feels chaotic, confusing, and has you tripping over your plants. When it comes to designing your backyard garden, there are many simple (and not so simple) steps you can take to improve the space. This applies to its functionality and to ensure that it's aesthetically appealing. And while not everyone has the same taste in terms of, well, anything, there are some general improvements that anyone can make in your backyard to make a big difference. We've come up with a list of eight ways to improve your backyard so that you are well on your way to having the garden of your dreams.
1. Consider Adding a Walkway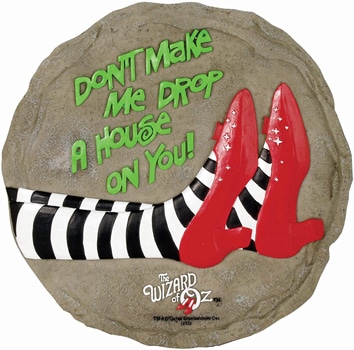 While adding a walkway doesn't have to be time consuming or expensive, it can make a massive difference to the aesthetic appeal. After all, who doesn't love a garden with a beautiful brick or stone walkway? While building a brick walkway certainly takes up some time, the cost of the supplies is really minimal. If you choose a stone walkway, you can take the simple route – placing some beautiful, large stones in the ground and twisting them into the general shape of a walkway. Done!
You can make your walkway a little more interesting by adding in a stepping stone or two with a design. This Drop a House on You Stepping Stone by Spoontiques is truly adorable and incredibly affordable.
2. Choose Plants with More Than One Function
When choosing plants for your backyard garden, think carefully about their function. While you're going to want to plant a selection of blooming plants, you may want to think about adding additional types of plants for some aesthetic variety. Think about interesting foliage or perhaps consider growing fruit, vegetables, or herbs. Plus, with the latter, your garden can be so much more than just aesthetically appealing – it can be both incredibly practical and useful too!
3. Ensure That There's a Balance
When it comes to your lawn and planting area, there should be a balance. Your backyard shouldn't be all garden (although, wouldn't that be nice?) especially if you have pets or children. If you would like your garden spread over your entire backyard, make sure its relatively low maintenance so no one will constantly be stepping on eggshells.
4. Add a Fence
Adding to our previous step, you may want to consider adding a low fence around your garden. This is a great way to make sure that your plants are protected from potential accidents and everybody stays out. Plus, there are plenty of beautiful looking garden fences that you can easily purchase online. This wrought-iron Amagabeli Decorative Garden Fence is stunning and comes in sets of five panels, up to 32 inches high. There's also the option of the classic white picket fence which adds a certain level of charm you can't get from wrought iron. Although you can purchase plenty of plastic white picket fences that look like wood, we like this 2 Pack Wood Picket Fence by uyoyous.
5. Build an Arbor
Nothing delivers the ambiance of a classic backyard garden better than an arbor. While an arbor doesn't necessarily have a purpose when it comes to physically supporting your garden, it can provide shelter, shade, and definitely aesthetic appeal. You can, however, direct vines to grow overtop and intertwine with the arbor which can be absolutely stunning. Arbors are generally made out of either wrought iron or wood so it comes down to the look you prefer. This 2 in 1 Wood Garden Arbor Arch by ZAMAX is not only beautiful but it also includes a gate to serve as an attractive entryway to your garden.
Another option is a trellis or a pergola instead of an arbor. A trellis is primary used to support plants while an arbor may sometimes have a trellis built into it. It doesn't have a shelter and is primarily a one-sided piece with latticework. This makes it ideal for vines to grow around.
A pergola is taller and larger than an arbor and is more often used as an entryway to your garden than an arbor or as a place to sit and get some shade. You'll find many pergolas with canopies on top in a gazebo-type fashion, such as the Outsunny 8′ x 9′ Outdoor Pergola Gazebo.
6. Make Sure You Know Where the Utilities Are
While this is not the most exciting tip in the world, it's incredibly important. You need to know where the pipes in your backyard are before digging and creating your garden. You do not want to map out your project and start digging holes and trenches only to hit a pipe after having du up your backyard for nothing.
7. Don't Crowd Your Pathways or Patio
If you have a patio, you do not want to crowd it with plants. Although plants are beautiful, your guests won't necessarily appreciate feeling like they're in a forest as much as you do. Plus, there's more of a chance of pests trying to get in your drink as you're relaxing on your patio if you're surrounded by plants. This also goes for your pathways and walkways. Make sure that your taller plants are two to three feet back from the edge so you and your guests don't feel crowded.
8. Create a Relaxing Environment
More than anything, you want your background garden to be a relaxing environment for you. What you consider relaxing is your preference but you might want to consider adding a bench swing, a gazebo, an outdoor clock, or anything else you may consider aesthetically appealing or practical. Consider including bigger plants such as shrubs and trees to help block out the wind and other elements as well.
Now that we've given you some great ideas on how to create or revamp your backyard garden, it's time to get to it! Making your backyard garden into a beautiful, serene space that's also practical doesn't have to be costly and can be achieved with just a few minor additions. We hope you can make your backyard garden into a place where you can enjoy yourself and be able to show off a little to others, too. For more great tips like this, sign up for our newsletter here.