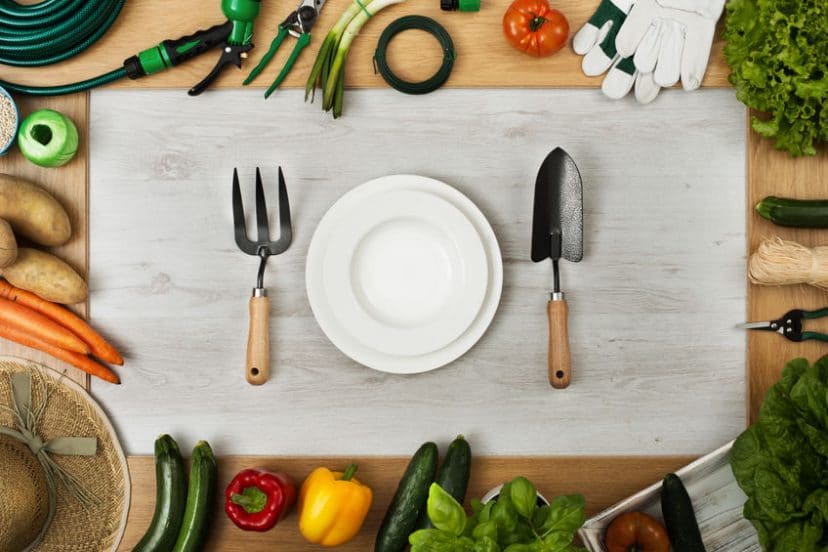 Just like a painter is nothing without his/her painting brushes/rollers, a gardener is nothing without the right tools needed to tend to his/her garden. Admittedly, there are a lot of gardening tools available, but you'll probably not be needing all of them at once. However, some tools are so important that you can't do without them as a gardener. Prepare yourself for the gardening season with this top 8 gardening tools for every gardener. 
1. Rake
This is one of the most basic tools for every garden. It's quite essential for keeping the piles in order and prepping up the soil before planting. You'd probably need the two types of rake available. The traditional leaf rake is perfect for keeping your garden free of large debris and leaves. A good option is the Jardineer Lightweight Adjustable Leaf Rake.
Another good one is the Bully Tools Bow Rake with Fiberglass Handle, which does a good job of prepping the soil prior to planting. A rake is an all-purpose garden organization tool and you can't do without one.
2. Gloves
We all know that gardening can really tear up our hands if we don't use protection. Aside from dirt lodging under your nails, there are sharp weeds with thorns, stings, and chemicals that can irritate the skin. Plus, you never know when you're going to come up against giant pests when digging in the soil. So, you should invest in a good pair of gardening gloves like the Garden Genie this gardening season. These garden gloves can help prevent cuts and scrapes. Also, it comes with removable claws to help with planting. 
3. Hose with Nozzle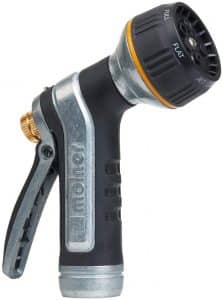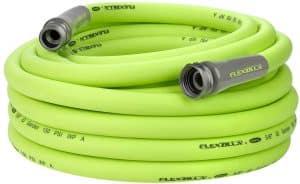 You'll need a hose handy for those moments when watering your plants seem a bit too large for the watering can. Of course, you can wait on the rain, as it is one perfect way to water your garden. But then, you don't have Mother Nature at your beck and call. So, you'll need a good hose with a spray nozzle. Flexzilla is a quality option for an indestructible hose and the Melnor Real Trigger 7-Pattern Nozzle makes for an excellent nozzle with several settings.
4. Shears
Now, this is one garden tool you don't want to leave out, as it's not uncommon to have to cut through thick plant stems and branches. Gardening shears are heavy duty scissors which makes it easy for you to cut through things, even if you're just pruning or weeding. Check out iGarden's three-pack shears – they are durable and don't break easily.  
Like this Article? Please Pin it on Pinterest.
5. Small Soil Shovel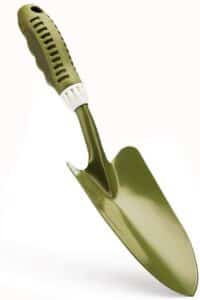 You can't do anything of 'note' in your garden if you don't have a soil shovel. This garden tool will help when turning soil in veggie patches and flower beds, dig holes for shrubs or plant removal. Small soil shovels are preferable because of their size. If you're in the market for a small soil shovel, Homes Garden Carbon Steel Bend Proof Shovel is one good option.  
6. Seating Pad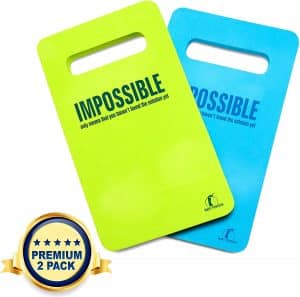 A seating pad offers that extra degree of comfort when sitting, stooping or crouching to take on a multitude of gardening duties. This is one of the essentials tools for every gardener, especially when you spend lots of time in your garden. A good seating pad makes for an effective solution to limit some of the fatigue, stress, and sore knees that arises from constantly bending, stooping or kneeling on a rough terrain. There is a decently priced thick two-pack of seating pads from Navy Penguin that's worth checking out.  
7. Soil Knife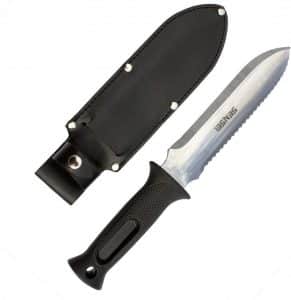 A soil knife is a serrated multi-purpose steel blade that is used for anything digging or cutting in the garden. It could be to dig into hard soil at the beginning of the year or attacking of tall weeds. Sensei Tools offers a new and improved soil knife that's perfect for such gardening tasks. 
8. Chicken Wire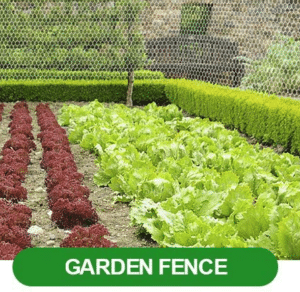 The name of this tool may be a bit misleading, as there are other uses for it aside from 'fencing' of chickens. You should consider a chicken wire for your garden if you've problem with wild animals like deers that love a free snack. You can have it stapled to posts so that it circles your garden. A galvanized chicken wire like the one from Amagabeli will definitely help secure your garden. 
Wrap Up
Even though this is not an all-inclusive list of tools for every gardener, it does provide a base for you to build on no matter what type of garden you choose. The above listed garden tools will surely get you started this gardening season, and you can always improve on them as you become a more experienced gardener. 
Happy gardening!