How to Build and Maintain an Indoor Vertical Garden for Medicinal Herbs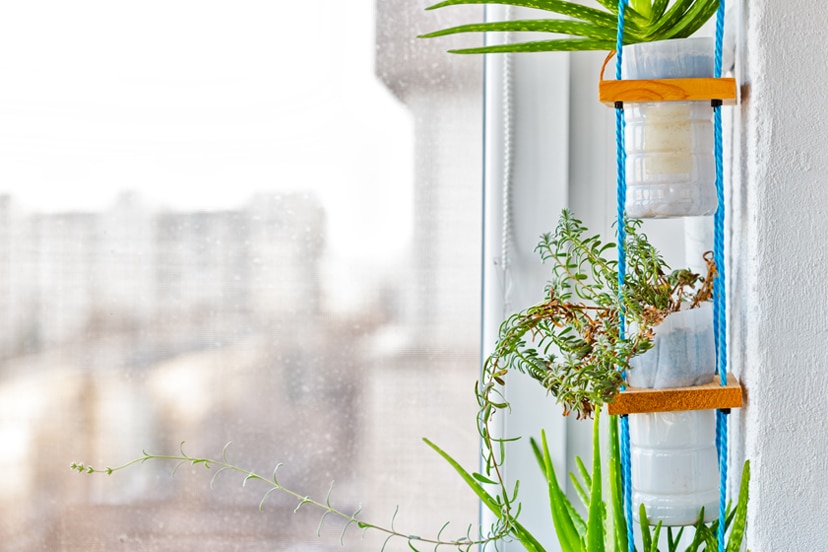 Vertical gardens are popular for their creative and beautiful aesthetic. The fact that they save you space is only one of the benefits to one of these unique gardens. One of the best things about an indoor vertical garden is that it's the perfect way to grow medicinal herbs. And you can create one inside your home or apartment without taking up a lot of room.
Here, we're going to tell you what you need to know to build and maintain an indoor vertical garden. Once you have your herbs growing strong, give vertical gardening a try with fruits and veggies, too.
Find Where You Want Your Vertical Garden to Be
When you're deciding where to put your vertical wall garden, there are two questions to ask yourself.
First, where do you have room and wall space? It doesn't matter what room you place your herb vertical garden in, you just need to be sure you have adequate space for your herbs to grow upwards. There shouldn't be any obstacles in the way, including wall art or shelving.
The second question to ask yourself is where does the sunlight come in? Herbs need sunlight, of course, so a room with a large window and a lot of natural light is best. If you don't have this, don't worry. There's another option to consider: grow lights. By using grow lights, you really can put your garden anywhere. Just position most of the lights so they're beaming on your vertical garden.
What You Want to Use for Your Medicinal Herb Vertical Garden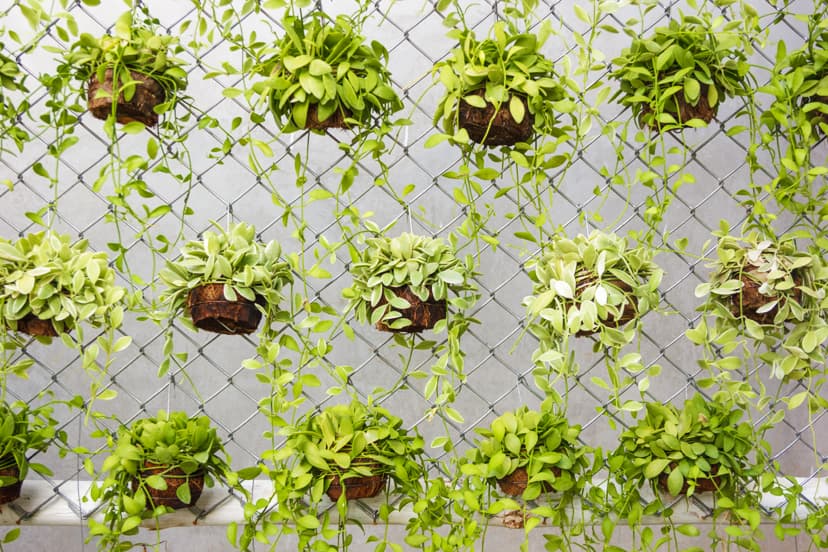 Source: canva.com
There are so many structures to choose from for your vertical garden. Before you choose, you need to determine how much space you have to work with. If you have a short ceiling, you might want to consider a rolling rack or planters for your wall.
If you have a lot of wall space and relatively high ceilings, a trellis or other vertical planter is a great option.
Consider what you're growing as well. Since most herbs are lightweight, weight isn't a factor. But, if you're trying to grow anything else, the structure needs to be strong enough to hold the weight of the mature plant.
Once you know all these details, you can decide what structure is best for your vertical herb garden. You can also get creative and build your own. People use pallets or wire. The opportunities are endless.
A few great options to consider are:
Hanging pots are perfect for growing medicinal herbs. Plus, if you don't have room to run a structure up your wall, you can hang these from your ceiling.
RISEON Boho Black Metal Plant Hanger
Material: metal. Strong and durable. color:black

Measurement:13.4*13.4*5.5 Inch,hanging bar length:11.81 inch. pot mouth diameter:5.5 inch. pot height:5.5inch

This flower pot not only can be used for planting your flowers,but also can decorate your room,garden or your office. Perfect for your patio, front porch, balcony or inside your home

Iron with black finishing-hanging bar and hook withstands the elements while providing secure support.

Adding some modern accent and charm to your space with this special modern plant holder.
Prices pulled from the Amazon Product Advertising API on:
Product prices and availability are accurate as of the date/time indicated and are subject to change. Any price and availability information displayed on [relevant Amazon Site(s), as applicable] at the time of purchase will apply to the purchase of this product.
The Riseon Mid Century Boho Black Metal Plant Hanger is made from durable iron. It can take a beating.
It's 13.4 inches by 13.4 inches by 5.5 inches. The chain is 11.81 inches long.
The black matte finish makes it perfect for any modern home.
Self-watering planters are pretty self-explanatory. To make your job easier, these planters water the plants for you.
Self Watering Hanging Planters 7 Pack
WHITE WALL PLANTER 7-PACK : Double layer design where the inner pot holds the plant and the outer pot holds the water. A cotton rope interconnects the two layers and allows for the transfer of the water from the outer water layer to the inner plant layer. This planter design facilitates air circulation while ensuring that the plant roots take up enough water and thrive without being waterlogged.

To avoid water logging, water level should not exceed the space between inner layer and outer layer, 0.4 inches. Approximately 1 week between water refilling.

RAISED RIM : The hanging hole allows for each pot to be easily mounted from windows, walls, fence, cabinets and so on. S-hooks are included.

SIZE: Outer Pot Diameter 7.28 inches and Height 6.1 inches. Inner Pot Diameter 5.7 inches and Height 3.93 inches. Top Opening for Soil and Plant has a diameter of 5 inches. Made with lightweight durable PP plastic

PLANTS NOT INCLUDED: Ideal for flowers, herbs and special plants like the African Vio
Prices pulled from the Amazon Product Advertising API on:
Product prices and availability are accurate as of the date/time indicated and are subject to change. Any price and availability information displayed on [relevant Amazon Site(s), as applicable] at the time of purchase will apply to the purchase of this product.
These Pomeat Self-Watering Hanging Planters are made from a high-quality PS resin. They're strong enough to handle your plants plus they're eco-friendly, non-toxic, and odorless.
Inside of the planters is a cotton rope that absorbs extra water that the plants can use when needed so you don't have to water every day.
Trellises are always a favorite if you have space. There are different designs and sizes to pick from. Plants with climbing vines look amazing on a trellis.
H Potter Garden Trellis
H Potter HEAVY & DURABLE CONSTRUCTION – H Potters trellis for climbing plants not only enhance any outdoor environment but can also offer additional privacy and security solutions for your home and garden. Uniquely designed, with a heavy, durable construction, the H Potter Wrought Iron Scroll metal garden trellis is a perfect fit for courtyards and can be used as a garden entrance, patio décor, indoor wall art, metal yard art or standalone for climbers.

SECURELY PACKAGED AND BUILT TO LAST – Professionally packaged trellis arrives in three pieces requiring assembly as shown in photo. The iron trellis is pleasing to the eye and perfect for growing vines or purchase a pair to grace an entryway. With dimensions of 18 inches wide x 67 inches high, (plus 12 inch spikes), this heavy-duty trellis for potted plants offers a secure anchoring system that will support plant material.

UNIQUE WROUGHT IRON SCROLL WORK – metal trellis offers functional vine support. Display as a single or in pairs on a patio in containers. This intricate ornamental design would make a delightful garden wedding decoration. If you need a solid, beautiful vine trellis for your yard, look no further, it's sturdy and functional.

POWDER COATED FINISH – Weather resistant, the trellis for climbing plants stands strong on its own or secured to a wall, adding grace to your garden even without a plant on it. With its charcoal brown powder-coating, a faux hand-rubbed finish has been applied for aesthetic, rustic appeal. Ideal for summer to support flowering vines, and in fall or winter, to add architectural interest to your lawn decor. Sold as a single, but also great in pairs or groups.

QUALITY BY H POTTER – H Potter has been designing and manufacturing premium quality garden trellis products since 1997. We do not pretend to be the cheapest, but you get what you pay for. With stunning craftsmanship and backed by great customer service, we're proud to say our garden products are built to la
Prices pulled from the Amazon Product Advertising API on:
Product prices and availability are accurate as of the date/time indicated and are subject to change. Any price and availability information displayed on [relevant Amazon Site(s), as applicable] at the time of purchase will apply to the purchase of this product.
The wrought iron used for H Potter's garden trellis is top quality. Nothing's going to take this trellis down.
It's 18 inches wide and 67 inches tall.
It has functional vine support for any vine plants. For herbs, you can hang small planters as well. Soon, you'll have all kinds of plants growing around this trellis.
Watering System for Your Indoor Vertical Garden for Medicinal Herbs
Watering vertical gardens isn't as easy as watering horizontal ones. There's a lot to consider about caring for a vertical garden. Because the potting mix is looser than the soil you use outside, it doesn't keep water as well which means that watering is even more important for vertical herb gardens.
People with only a few plants can get by with watering by hand as needed. When you water by hand, you have absolute control of how much water they're getting and when they're getting it. You know when the soil is dry and when there's too much water. Automated systems can break down so knowing how to water by hand is important.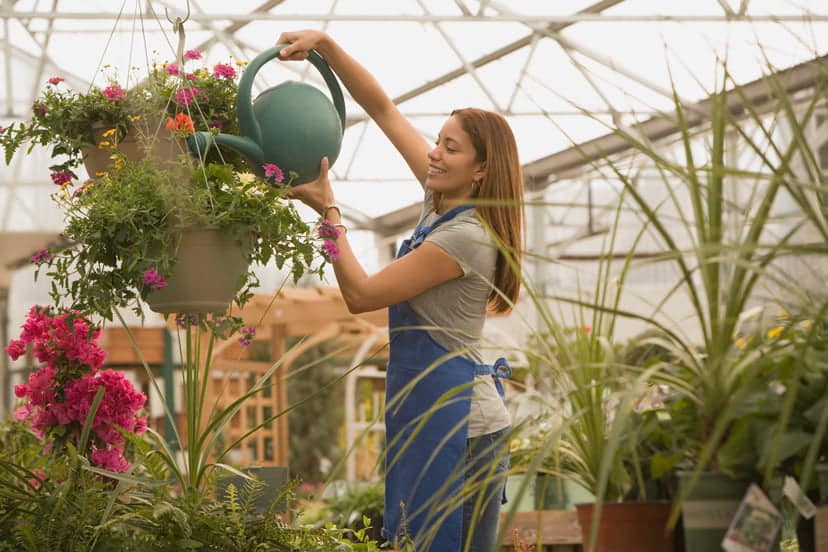 Source: canva.com
That said, watering by hand isn't your only choice. Sometimes you're away for the weekend or on a vacation. You have to keep your indoor vertical garden for medicinal herbs watered. Maybe you don't have anyone to come water your plants. This is when automated devices can come in handy.
First, as we've mentioned before, some self-watering planters and pots do all the work for you. But there are other automated watering devices to consider as well.
Water spikes are a popular option. They easily insert into the soil. Attached to each is a small plastic tube that leads to a small reservoir. The spikes detect when the soil dries out and the water flows through the tube to the spikes. Then, the porous texture slowly releases the water into the soil.
Indoor drip watering systems allow you to set a timer for when your plants need watering. They use drip lines that lead to your plants. You need to make sure you have an area where you can hide the drip lines or that lead them to your plants without them being in the way.
The Bottom Line
These are the basics to build a indoor vertical garden for medicinal herbs. Once you have these things in place, you're ready to get started.
To learn more, sign up for our newsletter here.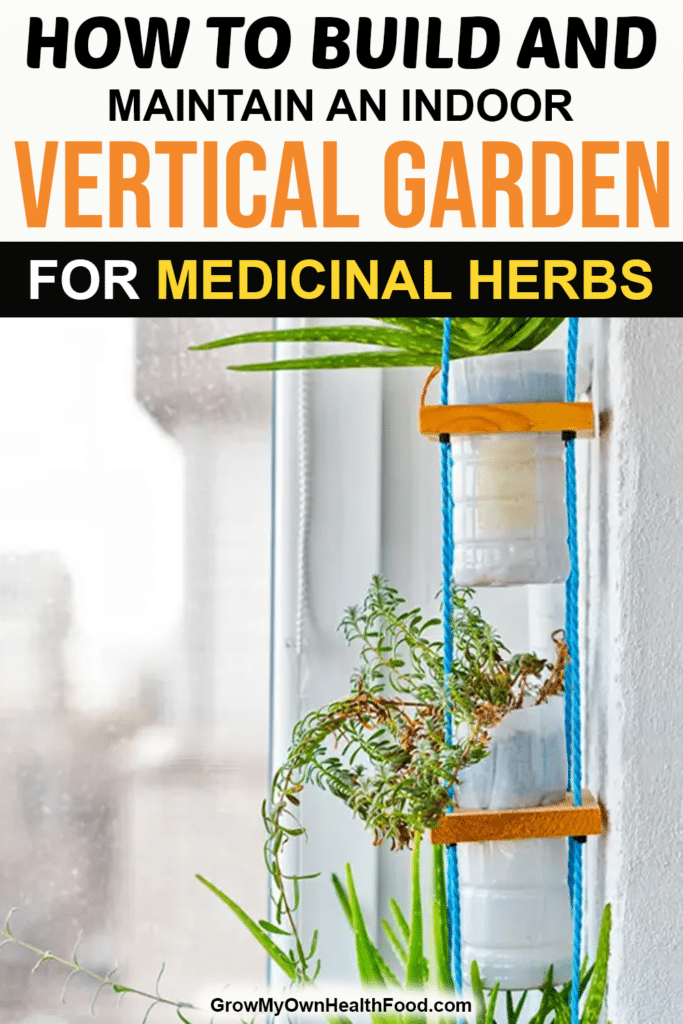 Source of Featured Image: canva.com