7 Cool Hanging Herb Garden Ideas – Grow Your Favorite Herbs Indoors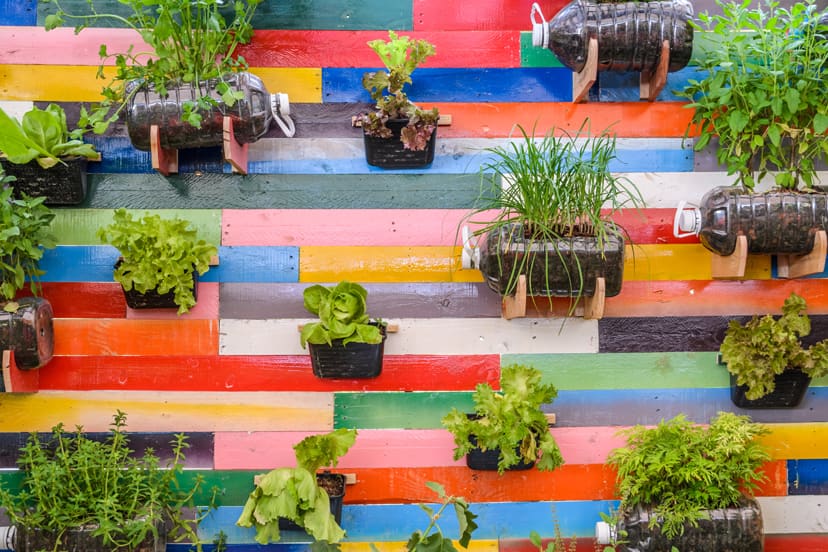 Did you know that there are many ways to hang herbs in your home and that a lot of them look pretty darn cool? Growing herbs doesn't need to be done outdoors or on the windowsill in your kitchen, even if you're working with small spaces. It's not only about where you hang you herb planter and how they look – there are many benefits when you grow herbs. Not only are they more cost-effective than buying herbs in the store but you can also be sure that your recipes are fresh and free of pesticides. Read on for seven cool hanging herb garden ideas and tips for growing your favorite herbs indoors.
Tips For Growing Your Favorite Herbs Indoors
Before we get into some seriously cool ways to hang your indoor herb garden, let's cover some tips on how to grow your favorite herbs indoors so your efforts aren't wasted.
Light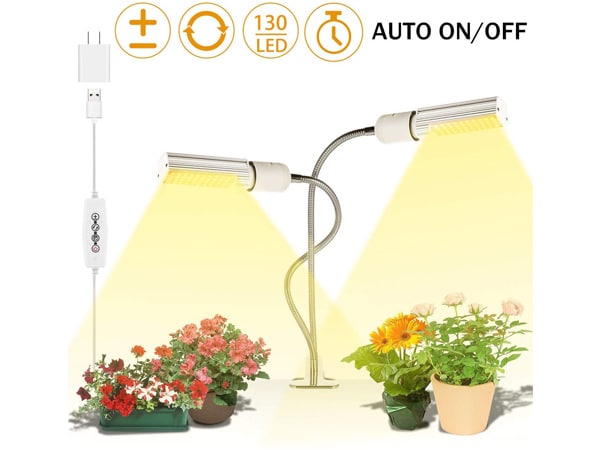 Make sure they have a strong light source. The intensity of the lighting that your indoor garden is exposed to actually impacts the intensity of the flavor. Growing your herbs in strong, bright light gives them the best flavor. Obviously, bright light does not need to shine on your herbs all of the time. Aim for six to eight hours of direct sunlight every day.
If you don't have a location in your home where your herb garden gets enough direct sunlight, you can help supplement this with an additional light source such as the LED Grow Light for Indoor Plant.
Container
You should grow each herb in a separate container. You may be tempted to combine multiple herbs in one container but this is difficult to pull off when growing herbs indoors. Using separate pots allows you to address each herb's needs individually.
Air & Temperature
Provide your herbs with good air circulation. Whether or not your herbs are hanging in your kitchen or in small pots on the window sill, make sure they're not sitting too close together. Because if they are, this could contribute to the spreading of disease. It's a good idea to rearrange your plants regularly if they are sitting close together.
Keep the temperature in your home between 60 and 70℉. While altering the temperature of your home may seem like serious dedication to your hanging herbs, it is necessary for them to successfully grow. Some herbs require more specific temperatures, such as basil. For example, basil prefers to be at a constant temperature of 75℉ and quickly starts to wilt if it gets too cold.
7 Cool Hanging Herb Garden Ideas
Now, onto cool ways to hang your herb garden! We're going to show you seven interesting ways to display your herb garden in your home so growing fresh herbs will never get boring.
1. Tri-Hanging Window Planters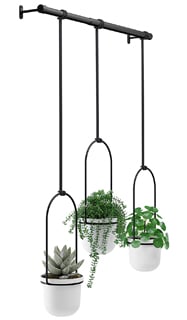 There are some seriously unique looking hanging window planters available that quickly add to the aesthetic of any home. They're also a great way to ensure that your herbs are getting enough direct sunlight. These Umbra Triflora Hanging Planters include a metal rod and all the hardware needed to mount your hanging herb garden. Each rope adjusts both horizontally and vertically so you can switch up the length of each planter to suit your taste. This one is also available in both white or black so you can choose one that's more suitable to your home aesthetic.
2. Dangling Planters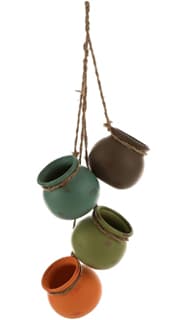 While these clay pots may look like they're about to spill soil out of them at any minute, they're a unique and fun way to display your herb garden. This four-pot set contains four southwestern themed mini flower planters that can be hung from either the wall or the ceiling. A brown jute rope connects the four pots, adding to the casual, southwestern look.
3. Hanging Window Plant Shelves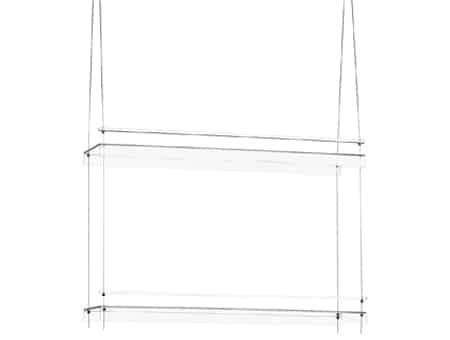 Another aesthetically appealing way to display your favorite herbs is by using a hanging shelf in your window. The Beautiful Views Hanging Window Plant Shelves are clear, which only adds to their appeal. It basically looks like your herb flower pots are hovering in your window and who wouldn't want that?
4. Individual Hanging Planters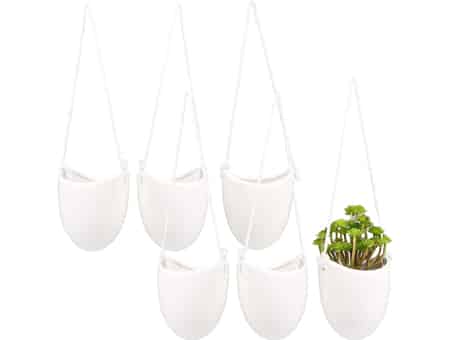 You can adjust exactly how you'd like your individual herbs to hang with these Set of six White Ceramic Wall-Hanging 5-Inch Planters. Whether you wish to arrange them in a bundle to create an overall look or hang them individually, these classic white planters are definitely a cool way to hang your herbs.
5. Hanging Galvanized Planter Tray
There are many variations of these classic galvanized planter trays available, usually with up to three tiers. You can display multiple herbs at once but, as we mentioned, make sure you rearrange them often if they're hanging close together. Check out this 2-Tier Galvanized Iron Hanging Planter Rack for a trendy way to hang multiple herbs.
6. Industrial Metal Wall Shelf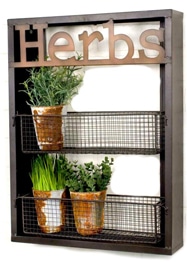 While not exactly hanging, this Industrial Metal Country Herbs Wall Shelf is truly adorable. This little setup boasts a metal industrial "Herbs" sign and contains two wire racks, ready to hold your herb collection. Keep in mind, this particular shelf is quite narrow and is only suitable for tiny herb pots.
7. Hanging Planter Baskets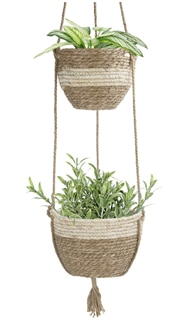 Onto a more traditional indoor favorite, the hanging planter basket. Basket plant holders are a classic yet bohemian looking way of displaying your indoor plants, whether they're flowers or herbs. These Natural Seagrass Basket Indoor Plant Pots contain two baskets, one hanging overtop of the other, which adds an aesthetically pleasing element to your home.
Conclusion
We hope we have given you some great inspiration on starting your indoor herb garden and some awesome hanging herb garden ideas on where to hang them. There are so many reasons to start a herb garden that have nothing to do with the look you're creating but why not up the aesthetic appeal of your home while you're at it?
Source of Featured Image: canva.com