Genius Ways of Growing Potatoes Indoors – The Ultimate Guide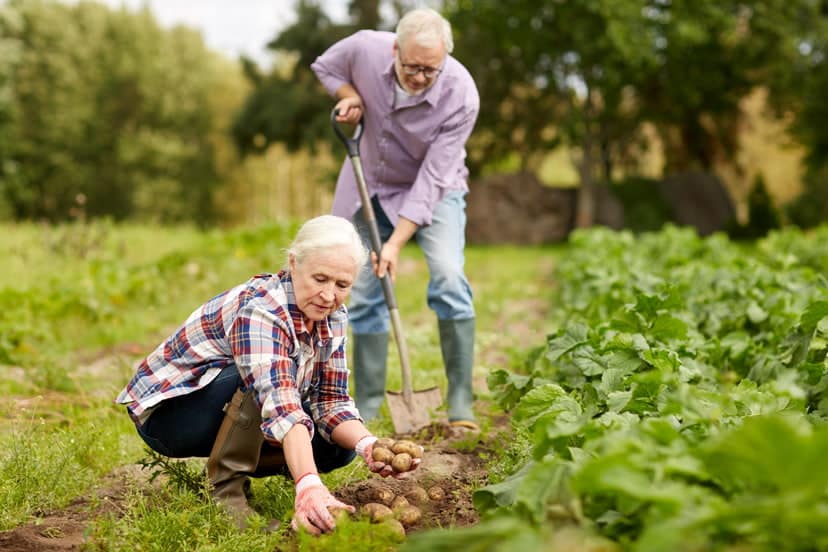 So, you want to grow potatoes indoors. There's something you never thought you'd say. Maybe you have a small space like an apartment or you just don't want to worry about garden pests (or your dog digging them up, for that matter) but growing potatoes indoors actually doesn't have to be that difficult. You just need to know what you're doing. With some high-quality potato seeds, plenty of light, a container, and the right temperature conditions, you're well on your way to growing potatoes indoors.
We're going to take you through the ultimate guide for growing potatoes indoors. While you probably never thought you'd be able to do such a thing, there are some genius ways to make your potato dreams a reality.
Choosing a Container For Indoor Potato Crop
Tvird Potato Grow Bags
( Upgraded Design): Tool holding pocket is added on the side to facilitate the storage of planting tools. Seam is made of double-layer stitches is more solid and firml.Multilateral design improves the life of the planting pot .Add transparent pouches to the front help add labels to distinguish the plants.Compared with the old planting bag, Velcro window adds a film to facilitate the observation of plants.Include 5 plant labels for your convenience to distinguish plants according to your needs.

(Upgrade Visual Window): Using the old visual window for planting grow bags and add transparent slices on the original basis.It can effectively prevent soil falling or plant roots being bitten by insects because of opening Velcro at any time.The plant growth bag has a visual window through which you can check to see if the plants are mature, and through this window you can easily harvest plants without digging up clay.Suitable for carrot, potato, tomato, onion, etc.

(Extended Handle, Easy to Move): The extended handle is more convenient to move the planting bag. You can carry it or move it directly. The black edge of the handle and the planting bag are firmly connected to maintain the shape of the potato grow bag together, which is not easy to deform.Tvird potato grow bags are perfect for patios, small gardens, balconies, sun rooms and any indoor/outdoor space. They can be used to potato, onions, taro, radish, carrots and other vegetables.

(Breathable Material): Breathable fabric with non-woven design for grow bags. Protecting roots from circling and decreasing the risk of transplant shock, as well as remove excess water. Boosting vegetables growth and yields.

(Nice Gifts Choice):Potato planting bags are suitable for different occasions, without being limited by the space, you can put the grow bag on the terrace, garden, balcony, greenhouse and any indoor/outdoor space, they can be used for planting potato, radish, carrot, onion, tomato and other root vegetables.You can choose grow bags as gifts for your friend who likes planti
Prices pulled from the Amazon Product Advertising API on:
Product prices and availability are accurate as of the date/time indicated and are subject to change. Any price and availability information displayed on [relevant Amazon Site(s), as applicable] at the time of purchase will apply to the purchase of this product.
RollingBronze Planter Bags
It is made of high quality non-woven fabric and breathable. Anti-corrosion, recyclable, easy to grow, fast growing, easy to harvest vegetables.

Applicable: ornamental, vegetable and fruit plants,potato,carrot and other rhizome plants.

Lightweight and foldable, it can be folded and stored when not in use.

Our planted bag is a new and unique way to create new gardens. Use it to make a green garden for home and gardening strat.

Non-polluting sowing, suitable for indoor and outdoor planting, perfect garden, balcony planting
Prices pulled from the Amazon Product Advertising API on:
Product prices and availability are accurate as of the date/time indicated and are subject to change. Any price and availability information displayed on [relevant Amazon Site(s), as applicable] at the time of purchase will apply to the purchase of this product.
To grow your new potatoes, you need to look for the right container. The specific type of container is not really too important – as long as it is deep and has a wide mouth to allow as much sunlight as possible to reach the potato vine.
It is extremely common to grow potatoes in bags. While this used to happen in any old soil bag, there have been many advancements in potato bag technology since. A great example of this is the Tvird Potato Grow Bags. While these bags are only 35 cm wide, they can hold 10 gallons of soil – perfect for growing a crop of potatoes. They're made of eco-friendly material and contain a visualization Velcro window. This is a fantastic feature for multiple reasons. Not only can you check if your potatoes have matured but it also allows you to harvest potatoes right through the window without having to dig 10 gallons down for the soil!
While the vast majority of potato containers are various forms of grow bags, they also come in a rectangular shape and a variety of colors to match your decor. We like the recyclable RollingBronze Planter Bags for this, which come in sizes up to 150cm long and 60cm deep.
Seeds vs. Sprouted Potatoes
Did you know that you can grow potatoes from seed potatoes that have already matured? Yes, it can be done! So, while you can buy three or four potato seeds from a nursery to start you off, you can also use sprouting potatoes that you already have.
To use this method, use potatoes with at least one eye with a sprout protruding from it. If the potato has not already sprouted, you need to chit them. Chitting potatoes means that you're placing them in optimal conditions for them to sprout faster.
When it comes to planting your sprouting potatoes to create more, make them small enough to do so. If your potatoes are already small – about two inches or less in diameter – they can be planted whole. If not, they need to be cut, keeping at least one or two eyes with the sprouts intact. If you have chosen to cut them, they'll need to sit for two to three days at room temperature to allow time to heal before you plant them.
How to Plant Potatoes Indoors
Now that you've gathered your potting soil and planted your potato seeds or potato sprouts, there are a few things to keep in mind about planting indoors. The first is that potatoes require plenty of moisture to grow and growing potatoes indoors means much dryer conditions than growing them outdoors. Therefore, you're going to need to make sure you water your potatoes continuously and at regular intervals. Potatoes need about one to two inches of water per week. This generally means that as long as the soil is damp but not soggy, you're good.
It's also important to note for first-time potato seed planters that after a week or so you'll notice potato shoots coming out of the soil, which will be exciting (at least to us). At this point, put more soil in your container, covering the shoots back up. From here, you'll only have to worry about adding more water when needed. 
Full Spectrum LED Grow Lights          
Aogled Grow Light, 150W
【Make up for lack of light source】There are 50 energy-saving SMD2835 LED chips in Aogled LED grow lights,8 red,2 blue,16 cool white and 24 warm white,which can provide more useful light to help plants better growing in seeding rooting,sprouting,flowering and fruiting,reduce the growing time.

【Save Energy】LED growing light for indoor plants full spectrum photosynthetically active radiation (PAR) and lumens are 20% higher than ordinary grow lights.it can replace the traditional 150W HPS/MH grow light,while only consuming 18W,energy saving 88%.The panel is made of die-cast aluminum can better dissipate heat no fan,no noisy.

【Easy to install】There are two installation methods,easy to use.The hanging plant light LED has a 120°adjustable handle,it can be easily mounted on the ceiling,poles and walls,at the same time,it is equipped with adjustable length ropes for more precise height adjustment to satisfied different plants growing requirements.

【Wide uses】Plant LED light can be used for hydroponics and indoor plants in the soil,mainly for small plants,fruits and vegetables such as strawberries,roses are very suitable for use as supplementary side panels when they are blooming.

【Excellent service】We provide a 90 days return and exchange service,if you have any questions about our products,please feel free to contact us,24 hours at your servi
Prices pulled from the Amazon Product Advertising API on:
Product prices and availability are accurate as of the date/time indicated and are subject to change. Any price and availability information displayed on [relevant Amazon Site(s), as applicable] at the time of purchase will apply to the purchase of this product.
If you're growing your potatoes indoors, odds are they're not getting enough sunlight. You may have a place that's perfect for regular, adequate sunlight but this can be hard to keep consistently. To substitute when your potatoes aren't getting enough hours of sunlight, it's a good idea to purchase grow lights.
Grow lights are light bulbs that you stick in existing lamps or built into special light fixtures that are built for this sort of thing. While there are a variety of grow lights available, including fluorescents, incandescent, and high-intensity discharge lamps (HID), LED grow lights are your best bet. LED lights can provide a full spectrum of color which is essential for helping plants grow properly out of natural sunlight. A great inexpensive option is the Plant Grow Light for Indoor Plants by Lonwon.
Hydroponically
Another genius way of growing potatoes indoors is to grow them without using soil at all. A plant doesn't absolutely need soil to grow as long as its getting all of the nutrients it needs and its other growing conditions are met as well. Depending on what you decide to use to substitute your soil, a grow bag may not work – some methods of growing plants hydroponically use a liquid instead of a solid but you can use perlite, pebbles, or even compost to grow potatoes. If you do decide to use compost, you will need to replace it every week.
Conclusion
Now that you've read our guide to growing potatoes indoors, we hope you have some fresh inspiration to go ahead and give it a go. As we've said, growing potatoes indoors is not rocket science. Just make sure you have the necessary supplies and conditions and care for them regularly and you'll be well on your way to fresh potatoes you can harvest from your living room. For more great tips like this, sign up for our newsletter here.