Best Indoor Herb Garden Kits of 2020 – Comprehensive Guide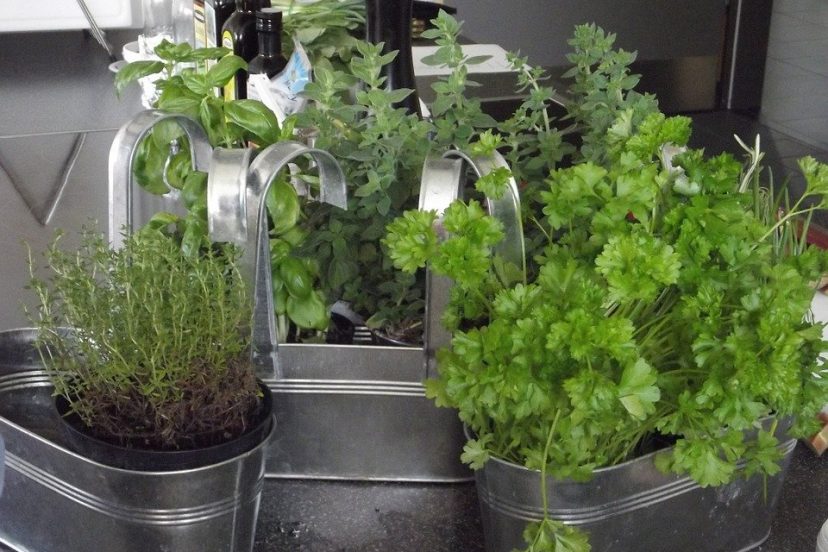 Gardening is an art, and a science all rolled into one not-always-so-pretty package. If you're not privy to the techniques and principles that govern cultivation, you may not get the results you hope for. A great way to dip your toe into the gardening pool is by investing in some indoor herb garden kits. Why buy a whole bunch of herbs to store in your fridge indefinitely when you could grow them instead and use 100% fresh ingredients in your meal and cocktail recipes every single time?
If nothing else, they add character to your kitchen. There's something about herb garden kits that gives off Martha Stewart vibes. And, who wouldn't want that?
We tested some of the best-reviewed indoor herb garden kits of 2020 and were pleasantly surprised by what we found.
| | | | | |
| --- | --- | --- | --- | --- |
| Editor's Choice   AeroGarden Harvest Elite | Click and Grow SGS1US | LAB XS Planter Pot | Garden Republic Garden Starter Kit | Bestio Indoor Herb Garden Kit |
| 11 x 8 x 15 in. | 9 x 4.9 x 12.5 in. | 6.38 x 6.18 x 5.63 in. | 7 x 7 x 4 in. | 9.84 x 9.84 x 6.69 in. |
| 20 Watt LED grow lights | 8 Watt LED grow lights | LED grow lights: N/A | LED grow lights: N/A | 17 Watt LED grow lights |
| 6 seed pods | 50 seed pods | Seed pods: not included | 4 different seed types included | 4 soil pods without seeds |
| Capacity: 6 plants | Capacity: 3 plants | Capacity: 1 plant per pot | Capacity: 4 plants per pot | Capacity: 4 plants |
| Hydroponic | Smart soil technology | Sun, soil, and water | Sun, soil, and water | Soil, water, and LED grow lights |
| Check Price | Check Price | Check Price | Check Price | Check Price |
1. Best Overall Countertop Herb Growing Kit – #1 Bestseller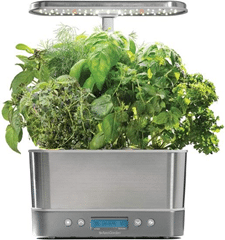 When it comes to smart countertop growing kits, the AeroGarden Harvest Elite sits pretty at the top of the food chain. This sleek stainless steel device comes equipped with a fully-automated easy-to-use control panel.
It has automatic reminders for plant food and water, alongside heat-sensitive buttons and other elite features that allow you to fully customize your herb-growing experience. If you happen to be out of town, you can set it on vacation mode to keep the hydroponic system running seamlessly. So, there's no danger of them withering and drying out when you're not around.
Herbs that are grown using the AeroGarden Harvest Elite mature five times faster than those grown on soil. Let that sink in.
It takes up to 6 plants at a time and allows them to grow up to 12 inches tall. It is equipped with full-spectrum 20 Watts LED grow-lights that maximize photosynthesis allowing your herbs to grow rapidly to reap high yields. The setup process is quick and easy and even comes with 6 gourmet seed pods that include mint, Thai and Genovese basil, thyme, dill, and curly parsley.
Features
Size: 11 x 8 x 15 inches
20 Watt LED grow lights
Includes 6 seed pods
Yield capacity: 6 plants
Grow system: Hydroponic
2. Best Portable Indoor Herb Garden Kit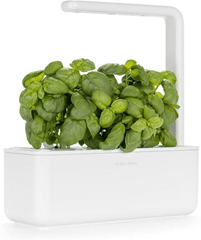 If you're looking for portable and lightweight indoor herb garden kits, then you'll love this unit from Click and Grow. The SGS1US 3 Smart Garden Model is specially designed for indoor use in your living room, windowsill, or kitchen-counter, to grow your favorite herbs all-year-round.
So, if you love your cherry tomatoes, peppers, parsley, sage, thyme, basil, and any other herb you can think of, you can grow them organically without any harmful chemicals or pesticides.
It has highly energy-efficient LED grow lights that come with adjustable lamp extensions, which provide a total grow-height of 100 – 360 mm for up to 3 plants at a time. The technology does all the work for you, so you don't have to. Just drop in the plant pods that come with the kit and start growing your herbs straight away!
Features
Size: 9 x 4.9 x 12.5 inches
8 Watt LED grow lights
Includes 50 pre-seeded plant pods
Yield capacity: 3 plants
Grow system: Self-watering planter with smart soil technology
3. Best Budget Buy Indoor Herb Garden Kit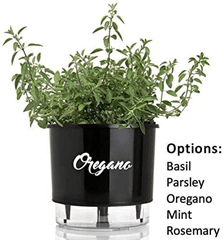 If style, elegance, and convenience matter a great deal to you, then you'll want to check out the LAB XS self-watering planter pot. It's not your regular pot, though. It comes with a built-in self-watering system that allows it to go 10 days without you having to lift a finger to do anything.
It keeps evaporation to a minimum and has a water-level indicator that lets you know when it's time to refill. It's sleek and contemporary design makes it the perfect accessory for any modern home or office décor.
Choose between rosemary, mint, oregano, parsley, or basil. Pick one or pick them all – you can't go wrong with them.
Features
Size: 6.38 x 6.18 x 5.63 inches
LED grow lights: N/A
Pre-seeded plant pods not included
Yield capacity: 1 plant per pot
Grow system: Sun, soil, and water
Planter volume: 0.46 gal.
Reservoir volume: 0.11 gal.
Included: Planter, cotton string, transparent water-level pot, black PVC pipe, and cover, and an instruction manual
4. Best Traditional Indoor Growing Kit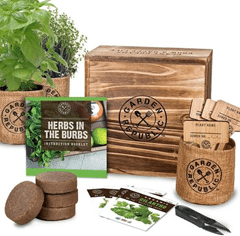 You don't always need to have the latest high-tech growing kit in your kitchen. There's something so joyous and satisfying about growing herbs the "traditional way."
The Indoor Herb Garden Starter Kit from Garden Republic comes with everything you need to get started. It has a set of four burlap pots encased in a beautiful wooden box. It has a rustic charm to it, making it the perfect addition to your home kitchen.
The kit comes with cilantro, thyme, parsley, and basil seeds that are 100% organic and non-GMO. The four soil discs included in it make it easy to set up and use. Simply place the discs in the burlap pots, plant the seeds, add a little water, and you're good to go!
Features
Size: 7 x 7 x 4 inches
LED grow lights: N/A
4 organic GMO-free seed types included
Yield capacity: 4 plants per burlap pot
Grow system: Sun, soil, and water
Included: 4 seed packets, 4 plant makers, 4 burlap pots, 4 soil discs, 1 pair of shears and an instruction booklet
5. Best Minimalist Designed Kit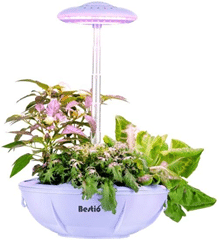 For those looking for an herb garden kit with a minimalist design, the Bestio Indoor Herb Garden Kit is just what the doctor ordered. It comes with built-in LED grow-lights fixed on an adjustable lamp pole that allows you to modify the height as the plants grow.
The five lighting modes provide sun-like full-spectrum light for faster growth through each phase. Its smart technology comes fully-loaded with timer-programmed automatic lighting, and self-watering features that make it easy to use, and completely hassle-free. You can activate the general mode feature to use the device as a reading lamp in the evenings. Talk about versatility!
Features
Size: 9.84 x 9.84 x 6.69 inches
17 Watt LED grow lights
Includes 4 soil pods (seeds and plants not included)
Yield capacity: 4 plants
Grow system: Soil, water, and LED grow lights
What to Look for in the Best Indoor Herb Garden Kits
If you're a complete novice to gardening, you might be feeling a bit overwhelmed, or even confused about what constitutes the best herb garden kit. With so many products out there, knowing what works and what doesn't can be quite tough, especially if you have no clue what to look for.
Here are the 5 main factors you should consider when buying an indoor herb garden kit.
LED power – Not all garden kits are created equal. Different products use different types of LEDs, and with that comes the difference in wattage. Smaller hydroponic systems typically use up a measly 5 watts, whereas larger ones can take up to 45 watts. It may sound like a lot, but considering its capacity, it is virtually negligible in the grand scheme of things.
Price – It's a growing kit – not a full-blown greenhouse. While you shouldn't go with the cheapest option you come across, expensive doesn't always mean good quality. The idea is to find something functional that's within your budget.
Compare the specs of each, with their respective prices, and get the one that suits your needs. Systems that use sophisticated technology will cost considerably more than those that require sun, soil, and water.
Technology – Speaking of technology, you need to figure out from the get-go, whether you want to go with a traditional growing kit that grows herbs the conventional way, or you want to step things up with an elite kit. The latter comes fully-loaded with onboard LED lighting and control panels that allow you to manage every step of the growth process. This is perfect for anyone who wants a more hands-off approach to growing their herbs.
Type – There are typically two main types of herb garden kits you'll come across. First up are the hydroponic ones that only require LED lights to grow your herbs. So, you don't need to worry about dealing with soil – which can get messy or forgetting to water your plants. It's completely hands-off.
The second type is the traditional type that requires sun, soil, and water. If you want a rustic appeal for your kitchen windowsill, these are perfect for that. They do, however, require a great deal more upkeep than other non-traditional alternatives.
Plant capacity – Different systems allow for a different number of yields at a time. If you're just starting, a system that supports up to three yields is ideal. If, on the other hand, you want tons of fresh herbs in your kitchen at any given time, get a system that grows more than seven plants at a go.
Healthy Herbs for a Healthy You
If you're crazy about herbs but don't have a whole lot of backyard space to plant them, indoor herb garden kits exist for just this purpose. They're beginner-friendly, easy-to-use, and convenient to have. They are fast becoming a must-have kitchen accessory for every home.
So, pick one that fits your lifestyle and reflects personality. We hope this article helps!
In the meantime, sign up for our newsletter to get exclusive tips on how to upgrade your home garden. You might even get a free pair of gardening gloves delivered right to your doorstep!